J. Bruce Voyles, Auctioneers Knife Auction 115
Auction Ends Thursday, November 21, 2019
Bidding begins NOW!
Please note: Shipping for this auction will not begin until after Thanksgiving.

Bids begin closing at 10:30 Eastern time and close incrementally until all lots close.
IMPORTANT: Due to abuses of our terms if you are a FIRST TIME bidder and have bids that will total over $2000 total, please call us directly at 423-238-6753 during Eastern business hours to verify your payment method and viability PRIOR to placing your bids. (If you have bid with us before this does not apply to you!)

This is the high res catalog. To bid go to the bidding section of the site by clicking here
How to bid? Click here                                    Home

These are the terms that govern this auction. Click here to read them.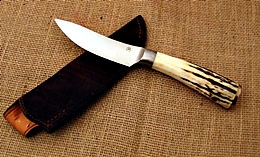 Lot 1 Al Pendray horseshoe mark, integral guard hidden tang, round stag handle, handforged by one of the rediscoverers of Wootz Damascus steel, former President of the Knifemaker's Guild, with elephant hide pouch sheath. Mokume pommel, 10 3/8" oal, 4 3/4" blade, some very light tarnish on the bolsters that would clean. (XV-044-dht) Minimum Bid $200.00


Lot 2 Mel Pardue Benchmade prototype, Dec. '92, and so marked on the blade, grooved canvas micarta handles, locking liner, (As a prototype was almost certainly handmade by Mel) Pocket, 5 1/4" closed, 9" open. Mint (XV-055-dht) Minimum Bid $100.00


Lot 3 Hank Knickmeyer Cedar Hill, MO handforged all Mosaic Damascus lockback folder, handles, locking bar, blade, intricate designs and the makers initials are in the steel as the knife is not marked otherwise HK. THE MAKER: Hank is one of the pioneers of powdered metal Damascus. He is known for making blades that are a sandwich of Damascus, nickel, and a high carbon steel core, a technique few makers attempt, let alone master. He has been a Master Smith of the ABS since 1994. He is the subject of a three DVD set demonstrating making several Damascus patterns including power metal produced by the ABS. 4 1/8" closed, 7" open. Mint. (XV-127-dht) Minimum Bid $100.00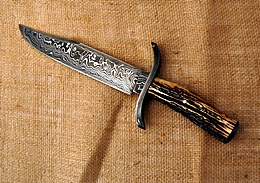 Lot 4 Burr Oak Damascus S guard Bowie, hidden tang, Damascus guard and pommel cap. 13 1/4" oal, 8 3/8" blade, hidden tang, well done. Mint. (XV-135-lmi) Minimum Bid $200.00


Lot 5 Mel Pardue Benchmade prototype, grooved canvas micarta handles, slide lock. (As a prototype was almost certainly handmade by Mel). 4 1/4" closed, 7" open, dated 9/15/01 and marked "Prototype". Mint (XV-054-dht) Minimum Bid $100.00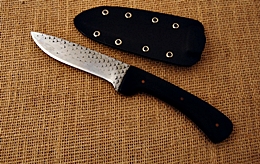 Lot 6 Al Pendray handmade hunter forged from a wood rasp, micarta slab handles, straight tang, kydex sheath. Mint, 9 1/2" oal, 4 5/8" blade (XV-060-dht) Minimum Bid $150.00

Lot 7 Al Pendray handmade Bowie sized hunter forged from a wood rasp, micarta slab handles, straight tang, kydex sheath. 12 1/2" oal, 7" blade Mint (XV-058-dht) Minimum Bid $150.00


Lot 8 Bill Harsey all one piece small all metal hunter marked William W. Harsey, 1985. Some specking but otherwise unused and mint. No sheath. 4 1/2" oal, 1 5/8" blade (XV-396-mhpt) Minimum Bid $50.00

Lot 9 Dick Atkinson wood handled interframe with a pearl inlay, fileworked liners and backspring. 3 7/8" closed, 6 3/4" open. Mint (XV-402-mhpt) Minimum Bid $110.00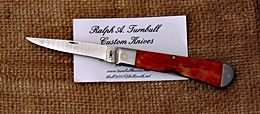 Lot 10 Ralph Turnbull handmade folder with smooth red bone handles, sliplock. 3 5/8" closed, 6 1/4" open, looks cleaned, so near mint. (XV-400-mhpt) Minimum Bid $90.00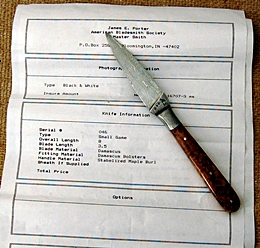 Lot 11 Handforged fixed blade by James E. Porter, ABS Mastersmith, 8" oal, 3 1/2" blade, Damascus blade and bolsters, stabilized maple burl handles, with paperwork from the maker. Mint. (XV-412-mhpt) Minimum Bid $100.00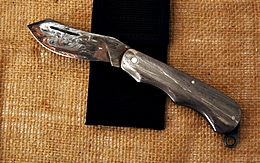 Lot 12 Cleaston Sinyard all Damascus folder, his unique type of swirl Damascus. The late Sinyard was a crew chief on American bombers stationed in England during WWII. 4 7/8" closed, 8 1/2" open, finger grooved, sliplock, tiny specks on the backspring, otherwise mint. With sheath. (XV-413-mhpt) Minimum Bid $125.00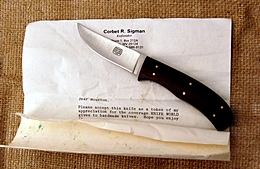 Lot 13 Corbert Sigman hunter, given to Houston Price, Publisher of Knife World, given as a gift from the maker. Complete with the original letter. No sheath. Mint except for a small tarnish spot on the back side. Straight tang, wood handles, 7 3/8" oal, 3 1/4" blade. (XV-415-mhpt) Minimum Bid $200.00

Lot 14 Gary Barnes pearl handled knife with fileworked bolsters, pearl on one side, other side has an unusual slide out and lock, pearl is scrimmed. Pantographed on the metal side, "Use it in good health,Houston--Gary." on the inside it is also marked, "Serial No., 380 12-16-82 New Windsor, MD, USA, 4 1/2" closed, 7 7/8" open mint. (XV-416-mhpt) Minimum Bid $150.00

Lot 15 R. L. Welling Damascus Bowie, subhilt with stacks of stag and ironwood,) well made, hidden tang, 17" oal with a 12 1/2" blade, tundra recovered Walrus ivory handle Sheath is Kenny Rowe with cut out to hold a sheephead (that is loose and needs to be reaffixed. Mint except spacers can be felt when rubbing hand over handle. (XV-084-dht) Minimum Bid $200.00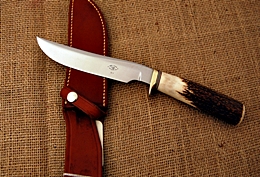 Lot 16 John Kemp Cutlery Co. hidden tang stag hunter, round stag handles, brass fitting, with spacers, leather sheath and a definite Randall look of a model 3-6 Sullivan sheath, 10 1/2" oal, 01 steel, minty. (XV-052-mhpt) Minimum Bid $200.00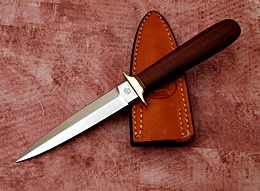 Lot 17 Chase handmade wood handle dagger, hidden tang, brass guard with spacers, 9" oal, 4 5/8" blade, Kenny Rowe leather sheath. Mint (XV-133-dht) Minimum Bid $75.00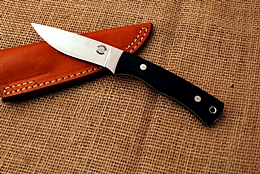 Lot 18 Pullen-Weaver Knifeworks, hunter, micarta handles, drilled for lanyard, straight tang, pouch leather sheath. 8 1/4" oal, 3 3/4" blade, Kenny Rowe sheath. Mint. (XV-066-dht) Minimum Bid $90.00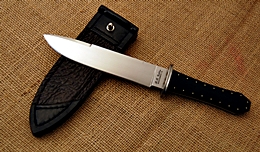 Lot 19 R. R. Golden Montgmery, AL slab handled dark wood handled Bowie secured by 18 pins, grooved guard, 11 1/2" oal with a 7 " blade, straight tang, thick and well done leather sheath. (XV-070-dht) Minimum Bid $110.00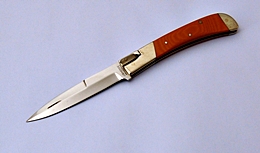 Lot 20 J. B. Hodge ivory micarta handled lockback folder, half-dagger blade, thumb lift to unlock, slant bolsters. 4 5/8" closed, 8 1/2" open, dovetailed bolsters. Mint. (XV-083-dht) Minimum Bid $60.00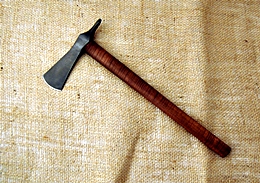 Lot 21 Chuck Hawes, Weldon, Il handmade tomahawk, 12 1/4" handle, 5 1/2" ax head, spike on one end, 1 7/8" cutting edge. Mint. (XV-134-lmi) Minimum Bid $110.00

Lot 22 Chuck Hawes handmade mastodon ivory Damascus 2 blade large coke bottle, fileworked liners, 15N20 & 1080 & pure nickel 200 layer strip pattern Damascus, 3 3/4" closed, 2 blade. Originally sold for $450.00. (XV-137-lmi) Minimum Bid $150.00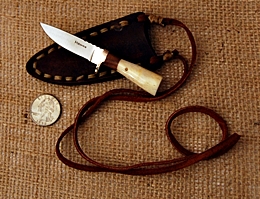 Lot 23 Chuck Hawes handmade Neck knife with sheath, white smooth stag and leather washer handle, mint 4" oal, 2" blade, some filework, (XV-140-lmi) Minimum Bid $25.00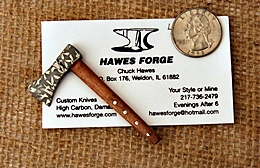 Lot 24 Chuck Hawes miniature tomahawk, Damascus, 1084 and nickel Damascus powdered steel, maple handle, 2 1/2" handle, appx. 1 1/2" head. (XV-141-lmi) Minimum Bid $10.00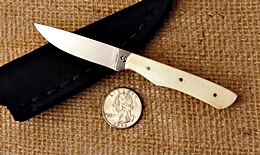 Lot 25 CS is the only marks on this smooth stag hunter with a pouch leather sheath, 5 1/8 oal, 2 1/2", with pouch leather sheath. (XV-142-lmi) Minimum Bid $25.00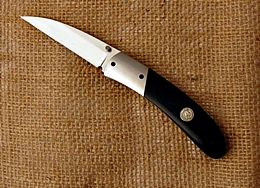 Lot 26 Tim Zerchensy handmade micarta handled locking liner with thumbstud made for the American Edge Collectors Association, long wharncliffe blade, mint. (XV-143-lmi) Minimum Bid $50.00

Lot 27 Chuck Hawes handmade Damascus wharncliffe one blade, Damascus bolsters, beautiful black lip pearl, mint. 1080, 15n20 and 5160 steels in 180 burl pattern Damascus. 3 5/8" closed, fileworked liner. (XV-151-lmi) Minimum Bid $150.00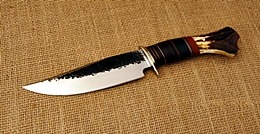 Lot 28 Jim Behring Treeman hunter, Scagel influence, distressed flat surfaces, stacked leather washer handle with "Y" stag pommel. Mint, no sheath. 1 1/4" oal, 6 1/2" blade, nickel silver guard. Mint. (XV-097-dht) Minimum Bid $150.00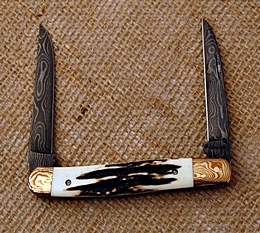 Lot 29 Chuck Hawes handmade muskrat with mokume bolsters and Damascus blades, screw on handles, mint. 1095x15N20x5160 steels in 100 layer woodgrain pattern. 3 7/8" closed. (XV-158-lmi) Minimum Bid $160.00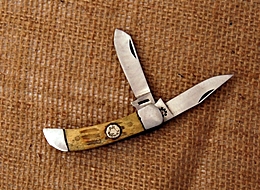 Lot 30 Mayall 2 blade small trapper, jigged bone, 2 5/8" closed, typical Mayall style like that of early makers, near mint. (XV-199-rdm) Minimum Bid $50.00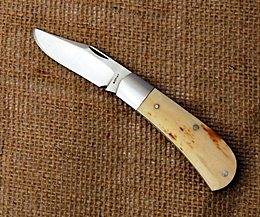 Lot 31 J. H. Lloyd handmade folder, Walrus ivory handles (the pebbly part that identifies it is clearly visible and not subject to US Fish & Wildlife restrictions for elephant ivory sales). 3 1/2" closed, saber ground, mint, but a natural check on the back side. Please check your local regulations on walrus ivory before bidding. (XV-207-rdm) Minimum Bid $200.00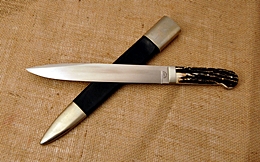 Lot 32 R. A. Fraizer handmade fantastic long stag handled camp knife, 14 1/2" oal, 9 1/2" blade with dropped pistol grip pommel, sheath with a nickel-silver throat and tip. Exquisite hand rubbed finish. Slab stag handles, Mint. (XV-250-bev) Minimum Bid $300.00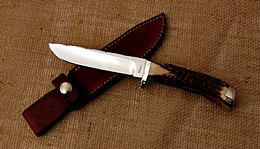 Lot 33 Marvin Poole "Poole 2" handmade stag handled fileworked hunter with nickel silver guard and pommel, hidden tang, leather sheath. 9 1/2" oal, 5" blade, leather sheath. 13-190 on back of the blade. Mint. (XV-275-tgg) Minimum Bid $80.00

Lot 34 Larry McEachern, Villa Rica, GA smooth bone handled handmade hunter, pouch leather sheath, straight tang. Sharpened and used, so near mint. (XV-276-tgg) Minimum Bid $60.00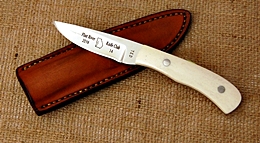 Lot 35 TED white bone handled handmade 2016 knife made for the Flint River knife club, straight tang, back side is etched in memory of Rade Hawkins, a principal in the club, knifemaker, and handmade knife supplier. Mint, 7 1/2 oal, 3 1/2" blade, pouch leather sheath. (XV-280-tgg) Minimum Bid $50.00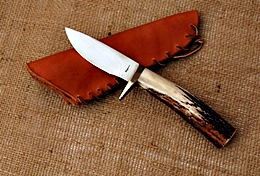 Lot 36 Lou Hegedus, Jr. round stag handmade hunter, hidden tang, brass guard, leather sheath, Georgia maker. Note: Lou Hegedus Sr. was a well known Case collector in the Atlanta area and was a top engineer at Lockheed, working on the C5A, and Lou's brother Chuck was a well known collector of folding guard lockbacks. A knife family for sure. 8" oal, 3 1/4" blade, pouch leather sheath mint. (XV-283-tgg) Minimum Bid $50.00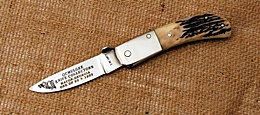 Lot 37 Zolan McCarty stag handled handmade folder made in 1992 for the Ocmulgee Knife Collectors Club of Macon, GA, one of 50, lockback, with Zolan's distinctive fold over integral thumbstud. 4 1/2" closed, 8" open. 10th anniversary etched on the reverse of the master blade. Mint. (XV-284-tgg) Minimum Bid $50.00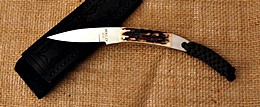 Lot 38 Wayne Hensley, USA stag handled small skinner. Wayne is a long time officer of the Knifemaker's Guild. Leather sheath, mint. 6" oal, 2 3/4" blade, tooled black leather sheath. Mint. (XV-285-tgg) Minimum Bid $30.00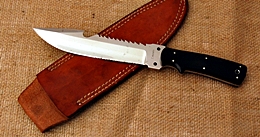 Lot 39 Zolan McCarty rare large survival knife, gut hook, saw teeth on the back, micarta handle, holes in the tang for securing to a pole, pouch leather sheath, has been used a little, near mint. Half serrations on the sharpened edge,12" oal, 7" blade, pouch leather sheath. Some splotches of cleaned tarnish on the back. (XV-286-tgg) Minimum Bid $65.00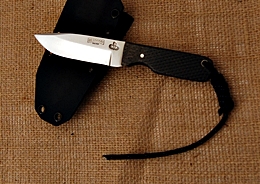 Lot 40 BEDGOOD knives carbon fiber small hunter, kydex sheath that can be worn a variety of ways, paratrooper emblem part of the logo. Mint. Straight tang, 7" oal, 3 1/2" blade. (XV-287-tgg) Minimum Bid $40.00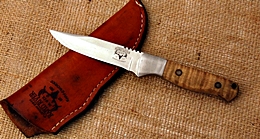 Lot 41 Rapid River USA Knifeworks Custom, dated 2011, wood handles, gimped thumb rest, leather sheath, straight tang, has been sharpened and used, near mint. Sheath marked Rapid River but much too large for the knife. (XV-289-wpsc) Minimum Bid $70.00

Lot 42 Roy Warden, Union, MO wood handled hunter with distinctive mosaic Damascus of wildlife images that go through the blade and visible on both sides showing wildlife in silhouette, pheasant, deer heads, and wild turkey, brass guard and pommel with a brass spacer, leather sheath. Hidden tang. 11" oal, 6 1/4" blade, mint. (XV-290-wpsc) Minimum Bid $150.00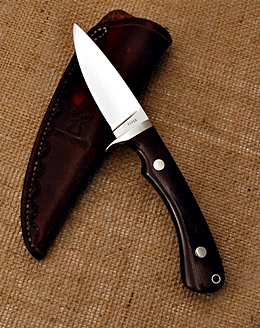 Lot 43 Roper handmade hunter, micarta handles with a finger groove, nickel silver guard and drilled for lanyard, pouch sheath, mint. Sheath marked Roper knives, tapered tang with black liners, 8 3/4" oal, 3 5/8" blade, #81 on the back of the tang. (XV-292-wpsc) Minimum Bid $100.00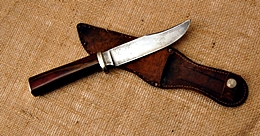 Lot 44 Early handmade marked "Havlik", used, stamina wood handle, nickel silver fittings, hidden tang, leather sheath not original to the knife. 9 1/4" oal, 5" blade, excellent. (XV-294-wpsc) Minimum Bid $30.00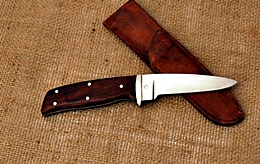 Lot 45 JP mark on this small hunter, wood handles, well used leather sheath, straight tang, 8 1/4" oal, 4" blade. Near mint. (XV-297-WPSC) Minimum Bid $30.00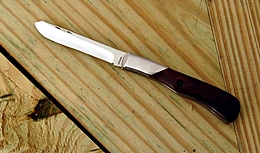 Lot 46 Wayne Hensley 1 blade folder handmade, wood handles with a ding or so, slant bolsters, 4 1/8" closed, saber ground spay blade sliplock. (XV-350-tgg) Minimum Bid $30.00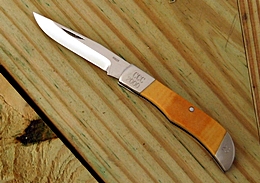 Lot 47 Wayne Hensley handmade ivory micarta folder made in 2000 for the Chattahoochee Cutlery Club in Atlanta GA. 3 1/4" closed, one discolored spot where it looks like a large sticker was on the handle. (XV-352-tgg) Minimum Bid $40.00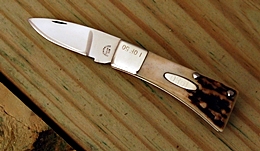 Lot 48 Stag handled handmade knife 1 of 50 made in 1980 for the Chattahoochee Cutlery Club in Atlanta Ga. (XV-353-tgg) Minimum Bid $40.00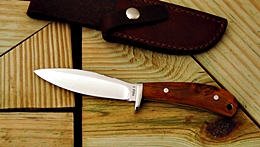 Lot 49 Marvin Poole handmade wood handled hunter marked "Poole 2" mint with leather sheath. Nice curve to the handle, 8 1/8" oal, 4" blade, on back, "17 765" "Green River Leather marked sheath. (XV-374-tgg) Minimum Bid $60.00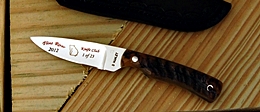 Lot 50 D. Manley handmade sheep horn handled hunter made in 2012 for the Flint River knife club, 1 of 23, with leather sheath, drilled for lanyard. 6 1/4" oal, 2 3/4" blade. Mint. (XV-375-tgg) Minimum Bid $65.00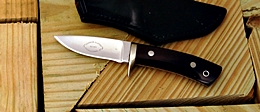 Lot 51 Charles Clifton, Georgetown, KY micarta handled drop point handmade hunter, used, exc. With pouch leather sheath. Great using knife. (XV-376-tgg) Minimum Bid $30.00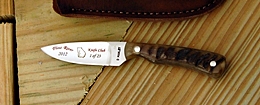 Lot 52 D. Manley handmade sheep horn handled hunter made in 2012 for the Flint River knife club, 1 of 23, with leather sheath, drilled for lanyard. (XV-377-tgg) Minimum Bid $65.00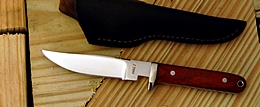 Lot 53 Marvin Poole wood handled hunter with leather sheath, marked Poole 2. Straight tang, 8 3/8" oal, 4 1/2" blade, mint. (XV-378-tgg) Minimum Bid $70.00

Lot 54 Dave Murphy handmade with engraved aluminum and brass handles, inset with tulip wood, oosic and white oak handles, D2 steel, Nude engraved on back side of the blade. 10" oal, 4 3/4" blade with long sharpened false edge. no sheath. Including the detailing letter from the maker. Sent as a gift to Knife World publisher the late Houston Price. Mint. (XV-395-mhpt) Minimum Bid $100.00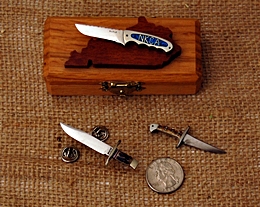 Lot 55 Three miniature knives, two marked by Jerry Bodner, one an NKCA finger groove in a box the other a pinback, plus one more with stag handles. (XV-399-mhpt) Minimum Bid $50.00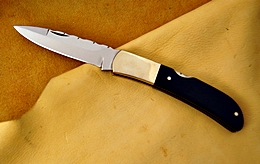 Lot 56 Webb big frontlock folder, fileworked back and blade back, long bolster, stamina wood handles, 4 7/8" closed, 9" overall, has been carried and used, grind lines on the blade are rough, excellent (X-145-rdm) Minimum Bid $30.00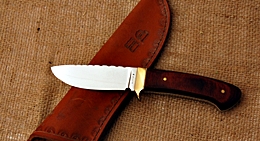 Lot 57 R Baker drop point with wood handles, 8" oal, 3 1/2" blade, laminated wood handle that has some surface cracking, straight tang, early knifemaker finish, brass guard, fileworked blade back, used, sheath stamped "H. P". (Houston Price, the late publisher of Knife World). (XV-417-mhpt) Minimum Bid $40.00

Lot 58 Dave Murphy handmade to Houston Price, bone jet, turquoises and wood inset handle engraved "Knife World Grand Prize 1992", stippled aluminum frame, in the original box in which it was shipped. No sheath. 10: oal, 4 5/8" blade. Mint. (XV-418-mhpt) Minimum Bid $100.00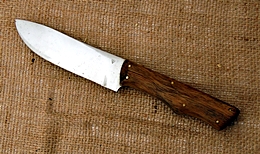 Lot 59 T inside a diamond shape wood handled hunter, some specking, attached cardboard sleeve over the blade identifies knife as Tom Berry of Rockmore TX, very light, no sheath, 9 1/2" oal, 5" blade. Rough finish, tapered tang and distal taper blade. Numbers on the back 85 F8. (XV-419-mhpt) Minimum Bid $50.00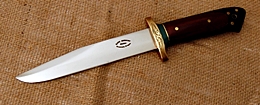 Lot 60 Dave Murphy Bowie. Micarta handles inset into a black composition outer handle, fused with the same treatment from the other side around a hidden tang, 12: oal, 6 3/4" blade, with brass spacer, green ferrule, drilled for lanyard, engraved brass guard. No sheath. (XV-420-mhpt) Minimum Bid $100.00


Lot 61 Tommy Lee Gaffney, SC Walrus handled folder, dovetaied bolsters. Walrus ivory is readily identified by the pithy appearing center part of a walrus tuck. Visible on the handle in this knife. Some shrinkage has moved the handle out of alignment with the dovetailed bolster, no space but doesn't align perfectly. Fixer upper... (X-232-lmi) Minimum Bid $60.00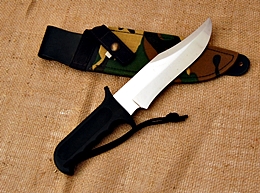 Lot 62 Blackie Collins Bowie with thermoplastic handles and camo sheath. Mint. His name marked on the tang as he did often with the knives he handmade. Camo sheath. 12" oal, 7 1/2" blade. Mint. (XV-414-mhpt) Minimum Bid $70.00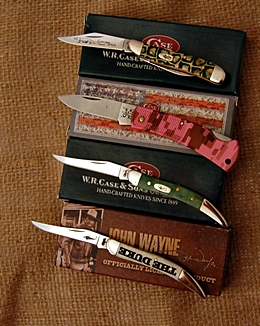 Lot 63 Four Modern Case knives. 6220 peanut with Gatorback laser cutting, pink Camo thermoplastic 21125L, 610096 greenbone, and 610096 mini-toothpick John Wayne "The Duke" laser cut handles with etched blade. (XV-002-dso) Minimum Bid $45.00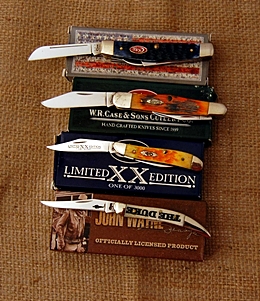 Lot 64 Four modern case knives, 64052 congress with red shield and navy blue handles, 6383 jigged autumn bone, 6220 peanut with sunburst bone in a Select limited edition, and 610096 mini-toothpick John Wayne "The Duke" laser cut handles with etched blade. (XV-003-dso) Minimum Bid $70.00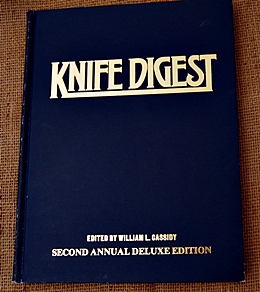 Lot 65 Hardcover cover "Knife Digest" book 2ed Edition by William L. Cassidy. One of the liveliest written knife books ever. A requirement for any good knife library. (XV-004-rel) Minimum Bid $5.00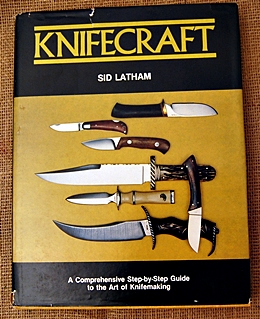 Lot 66 Knifecraft, A Comprehensive step-by-step guide to the Art of Knifemaking by Sid Latham, hardcover, color dust cover, and a classic knife book. A requirement for any good knife library. (XV-005-rel) Minimum Bid $15.00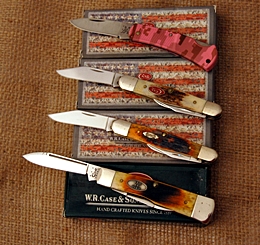 Lot 67 Four Case knives, modern, camo 21125L thermoplastic lockback, 5383 stag whittler with red relief shield, 6383 bone, and 6230 gunstock with antique bone handles and oval relief shield. All MIB (XV-006-dso) Minimum Bid $60.00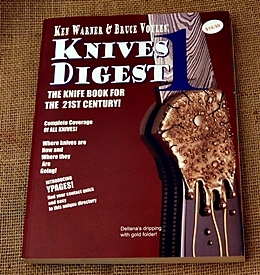 Lot 68 Knives Digest by Ken Warner and Bruce Voyles. The last major knife book I wrote. Good articles. Good writing. Crammed with knife photos. Paperback. I will autograph the book upon request. (XV-007-rel) Minimum Bid $5.00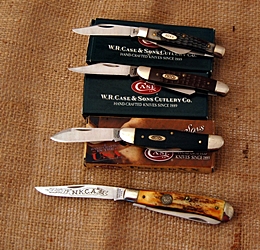 Lot 69 Four knives, 3 Case knives, 1980's fading delrin 63044 , delrin 63087, G10 handled 103046 with cracks across the handle and Schrade 1982 stag handled NKCA trapper club knife. All mint except as noted, Case knives all in the boxes. (XV-008-dso) Minimum Bid $25.00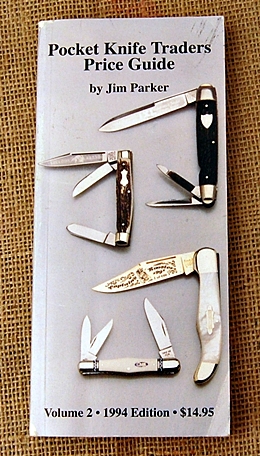 Lot 70 Pocket Knife Traders Price Guide by Jim Parker. 1994 edition, second he issued, made to fit in a back pocket, and a great comparison to today to see how knife prices have changed (or not changed). (XV-009-rel) Minimum Bid $2.00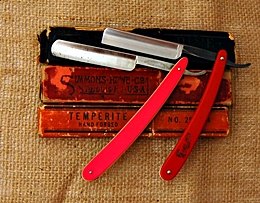 Lot 71 Pair of Straight Razors, Case Red Imp mint, and Dixie Manufacturing Co. Union City, GA, near mint. Boxes are not original. (XV-013-lmi) Minimum Bid $15.00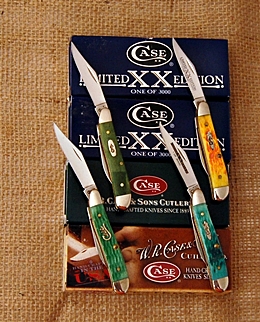 Lot 72 Quartet of Case Peanuts, two Case Select 1 of 2500, handles are bone, sunburst, seat green (selects) and burnt green and emerald green. . MIB. (XV-014-dso) Minimum Bid $65.00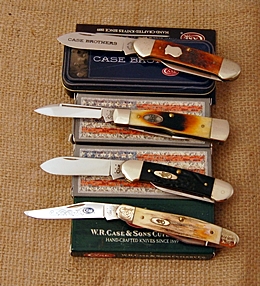 Lot 73 Four Case knives, Case Brothers modern marked 62131 canoe, 62130 antique bone gunstock, 62131 rough black canoe, and stag handled blue scroll etch (modern) muskrat with engraved bolsters, all MIB (XV-015-dso) Minimum Bid $100.00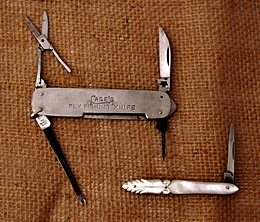 Lot 74 Pair of knives, Case US Fly Fish Knife vg with broken blade and punch, and carved pearl Henckels fruit knife, vg, patched on the back handle. (XV-016-dso) Minimum Bid $10.00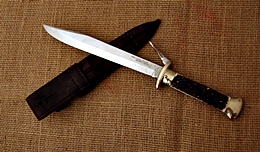 Lot 75 Hugo Koller Solingen Germany stag handled knife that folds through the handle, and lock is not spring loaded but is held in the grip and locks the blade, mint. 11 1/2" open, 7 1/2" blade. With sheath. (XV-018-rhh) Minimum Bid $40.00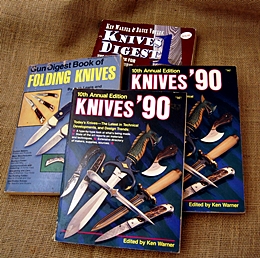 Lot 76 Four Knife books, all used, Knives Digest, Gun Digest Book of Folding Knives by Jack Lewis and B. R. Hughes, and two copies of Knives 90. (XV-020-rel) Minimum Bid $10.00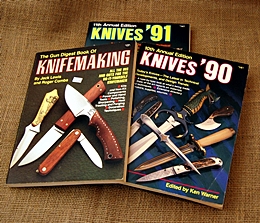 Lot 77 Three knife books, The Gun Digest Book of Knifemaking, Knives 90, and Knives 90. all Used. (XV-021-rel) Minimum Bid $10.00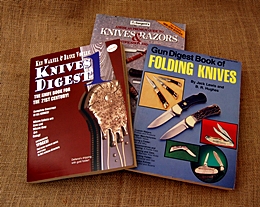 Lot 78 Three great knife books, Knives Digest by Ken Warner and Bruce Voyles, Sargents Knife & Razors price guide, and Gun Digest Book of Folding knives by Jack Lewis and B. R. Hughes. All softover, previously owned. (XV-022-rel) Minimum Bid $10.00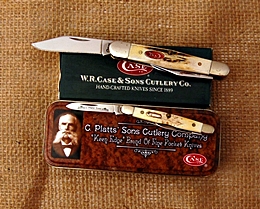 Lot 79 Two stag handled knives, 5383 round raised letter shield, 5201 C. Platts model in tin box, both mint. (XV-023-dso) Minimum Bid $50.00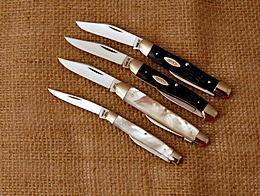 Lot 80 Four Case knives from the 70's , 6208 bone half whittler, all early 70's and 10 dot 62109x bone baby copperhead, 82079 1/2 and 8233 both pearl handles . Mint. (XV-024-tlo) Minimum Bid $90.00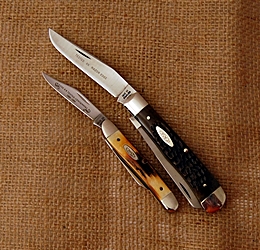 Lot 81 Pair of Case knives, 1970's 6254 bone stainless trapper and 52087 stag handled Case Centennial stag handled knife. (XV-025-tlo) Minimum Bid $60.00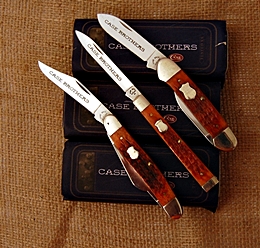 Lot 82 Three Case Brothers (modern) knives, in metal tins, 62131 canoe, 6108 physican's, and 6347 stockman. All MIT (XV-026-dso) Minimum Bid $70.00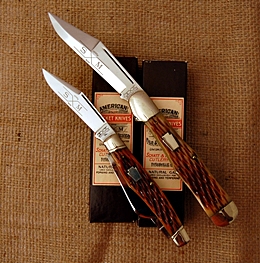 Lot 83 Pair of Schatt & Morgan knives, large coke bottle folding hunter with extended bolsters, and jumbo stockman with grooved bolster and keystone shield. Both MIB. (XV-027-tlo) Minimum Bid $50.00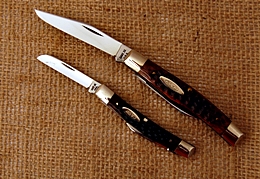 Lot 84 Two 70's Case knives, 6232 70's bone and 6269 small congress delrin 70's, both mint. (XV-028-dso) Minimum Bid $40.00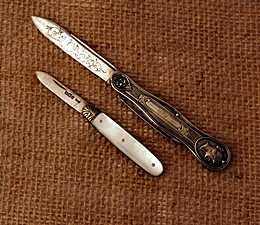 Lot 85 Pair of fruit knives, one a two blade coin silver with a cameo pommel, the other a small JY Collingshaw with pear handles and fancy bolsters, both exc. (XV-029-dso) Minimum Bid $10.00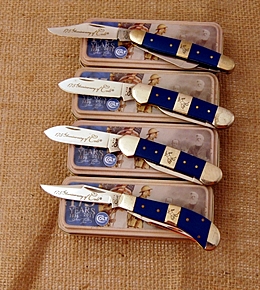 Lot 86 Four Case knives honoring the 175th anniversary of Colt, issued in 2011, all with pieced blue bone handles, the Rampant Colt on the spacer bar, and in colorful metal tins, 6347, pair of canoes 62131, and a Tony Bose small saddlehorn. All mint (XV-030-dso) Minimum Bid $95.00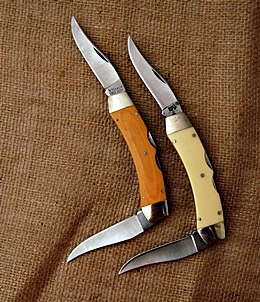 Lot 87 Pair of Case Texas Lockhorns from the 80's, both variations, micarta handle and white delrin handle. Both mint blade but handles have been scratched and skinned up sliding around in knife boxes for God knows how long. Not sure the scratches would buff out. Delrin model has five or so rivet cracks, common for the delrin model. No boxes or sheaths. (XV-031-dso) Minimum Bid $100.00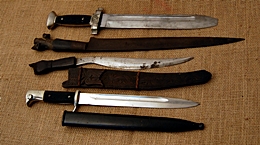 Lot 88 Three knives, German military style pioneer knife, swastika on the guard, sawtooth back, blunt tip no sheath 15 1/2", ethnic knife with carved wood sheath and handle carved into the shape of a fist, 17" or so, 18" similar knife with no sheath, and what appears to be a Mauser bayonet with metal sheath with the barrel lug ground down. (XV-032-rhh) Minimum Bid $35.00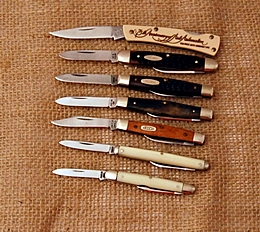 Lot 89 Seven Case knives, all different, Hastings model commemorative 75 anniversary, 6279 ss delrin, 62042 delrin, A62042 appaloosa bone, 7233 1990, 9261 USA (1965-70), and 9201 10 dot. (XV-033-tlo) Minimum Bid $40.00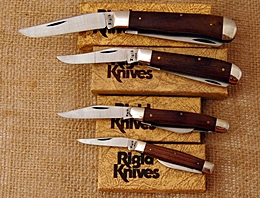 Lot 90 Set of four Case made knives for Rigid, all typical Case patterns, trapper, mini-trapper, serpentine three blade, and two blade pen, wood handles, names are Gauco, Pocket Partner, Johnny Reb, and Lil' Reb. MIB (XV-034-tlo) Minimum Bid $75.00


Lot 91 Pair of Carl Schleiper Eye brand stag handled knives, 1995 NKCA club knife muskrat, and etched blade stag handled canoe, both mint. (XV-035-lmi) Minimum Bid $50.00

Lot 92 Case Artic Ice handled channel inlay peanut, mint in presentation box (XV-036-dso) Minimum Bid $65.00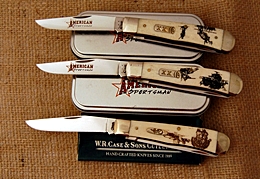 Lot 93 Three Case wildlife knives, two etched American Sportsman with shotgun XX shields and laser scenes of deer and a turkey, in tins, and in paper box similar scene of a turkey with unetched blade but scrimmmed on both sides. All mint and all trappers. (XV-037-dso) Minimum Bid $90.00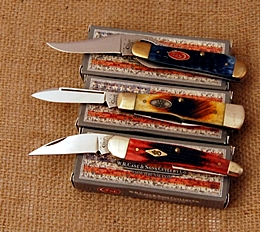 Lot 94 Three Case knives, Russlock with Navy blue bone handles and raised red shield, Antique bone gunstock 62130, and 63055wh seahorse with Crimson bone handles and diamond shield. All MIB (XV-039-dso) Minimum Bid $75.00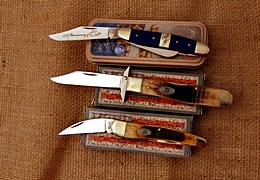 Lot 95 Three Case knives, 6437 blue bone 175th anniversary of Colt (2011) in colorful metal tin with COA, 6111 1/2 folding guard lockback root beer bone and 63055 seahorse with raised letter shield, antique bone, all MIB (XV-041-dso) Minimum Bid $75.00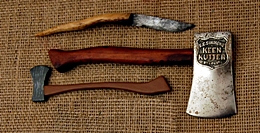 Lot 96 Thee cutlery items, E. C. Simmons Keen Kutter in relief hatchet, very good, an unmarked deer tine handled patch knife, and a plastic handled miniature ax (toy). (XV-042-lmi) Minimum Bid $30.00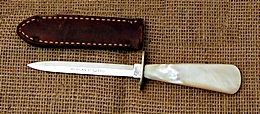 Lot 97 Utica Knife & Razor Co marked Pearl handled garter dirk mint with etching, "Mexican Stiletto" 7 1/2" oal, 4" blade, with leather sheath (XV-043-rgot) Minimum Bid $50.00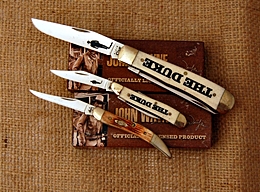 Lot 98 Three Case knives, two are white bone with "The Duke" lasered into it, authorized John Wayne knife with illustrated box, 6254 Trapper, 6220 peanut plus a 610096 mini toothpick with bone handles. Mint. (XV-045-dso) Minimum Bid $50.00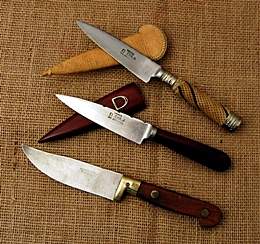 Lot 99 Three knives, wood handled 9" knife with wood handle Inoxidable Frances Industria, Argentina mark, no sheath; Tandil El Chaja, Ind Argentina small gaucho with unusual woven cloth handle, 8 1/2" mint with nice leather sheath; and same knife with the same mark but with a polished wood handle and wood sheath, mint. all Argentia made. (XV-046-RHH) Minimum Bid $50.00