J. Bruce Voyles, Auctioneers Knife Auction 117
FIRST AUCTION OF THE YEAR!
Auction Ends Tuesday, Feb. 18, 2020
Bidding begins NOW!

Bids begin closing at 10:30 Eastern time and close incrementally until all lots close.
THIS IS THE HIGH-RES CATALOG--
TO BID YOU MUST GO TO THE BIDDING PAGE BY CLICKING HERE
How to bid? Click here                                    Home

These are the terms that govern this auction. Click here to read them.
Lot 100 Unmarked Handmade knife with stag handled the end is carved into a lifelike snake head, note with the knife says it was made by Roger "Mudbone" Jones, with the carving of a Rattlesnake head by Richard West, 12" oal, 7" blade, mint. snakeskin window leather sheath. Mint. (wcav XVII-324) Minimum Bid $75.00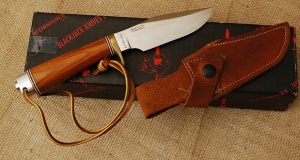 Lot 101 Blackjack Classic blade, chestnut laminated wood handled hunter, Effingham, IL made, leather sheath, MIB (rhh XVII-105) Minimum Bid $75.00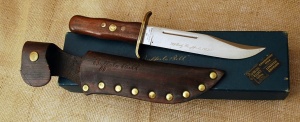 Lot 102 Rare Schrade-Walden Buffalo Bill wood handled Bowie with marked leather sheath, in original box. Mint. (rhh XVII-106) Minimum Bid $60.00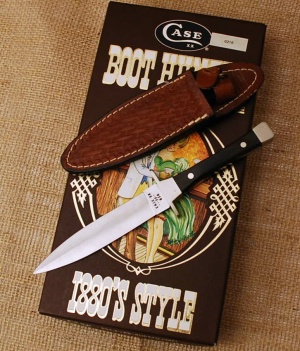 Lot 103 Case boot knife with garter, basketweave sheath, color box. Mint. (rhh XVII-107) Minimum Bid $90.00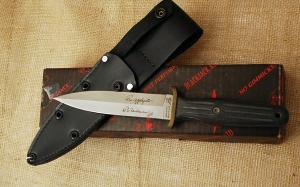 Lot 104 Blackjack, Effingham, Ill Applegate-Fairbairn, leather sheath, mint in original box. (rhh XVII-108) Minimum Bid $100.00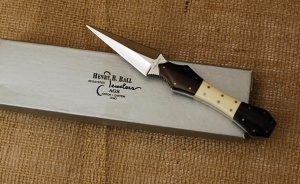 Lot 105 McConnell handmade Boot knife, coffin pommel, slab handles of ironwood and white bone, no sheath. "Bose" is pantographed on the other side (do not think it is related to Tony) no sheath, 6 1/2" oal, 2 1/2" blade, 440c. (rhh XVII-109) Minimum Bid $50.00

Lot 106 Puma Skinner Solingen Germany, stag handles, MIB (rhh XVII-110) Minimum Bid $60.00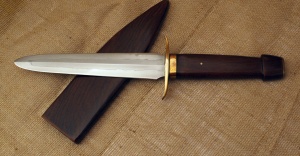 Lot 107 Dave Cato, VA , handforged dagger, great temper line, hidden tang, brass guard, mokume ferrule. Cato came in second place in a Forge in Fire episode, wood handle carved, brass guard and butt cap, maker's mark is on the butt of the pommel. all wood matching sheath, mint. Big 17" oal, 9 3/4" blade. (wcav XVII-352) Minimum Bid $60.00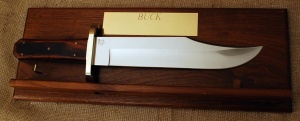 Lot 108 Buck custom Bowie with laminated wood handles and wall plaque, (rhh XVII-112) Minimum Bid $95.00


Lot 109 Murphy Combat Knife in glass case from Murphy Combat Knife, Richmond, VA (a later owner of the Murphy knife mark. (rhh XVII-113) Minimum Bid $75.00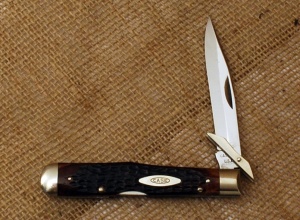 Lot 110 Case 70's dots jigged bone 6111 1/2 folding guard lockback (rgot XVII-302) Minimum Bid $60.00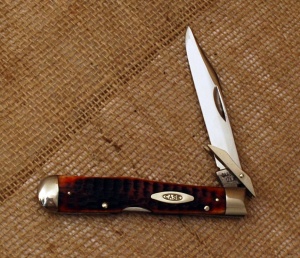 Lot 111 Case USA (1965-70) jigged bone 6111 1/2 folding guard lockback, exceptional reddish tint handles. Cleaned to near mint (rgot XVII-303) Minimum Bid $60.00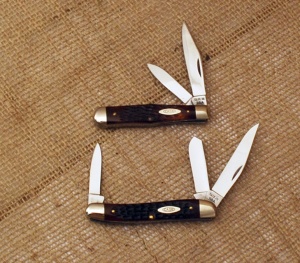 Lot 112 Pair of Case knives, 6225 1/2 coke bottle 70's dots and 63087 sh pen 10 dots, delrin. Delrin handles in 10 dots are uncommon, both mint. (rgot XVII-304) Minimum Bid $45.00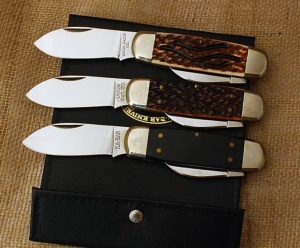 Lot 113 Three Kabar issued sunfish in a knifepak, Union Razor mark with worm groove bone, Union Cut with jigged bone, and KA-BAR with black composition and Union Cut on the smaller blade, 1986, all mint. (lmi XVII-117) Minimum Bid $110.00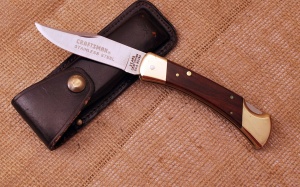 Lot 114 Sears Craftsman, etched blade, USA made, laminated wood handle, likely Schrade made on the LB7 pattern, with leather sheath. Craftsman marked USA made knives are most collectible right now. (rgot XVII-406) Minimum Bid $200.00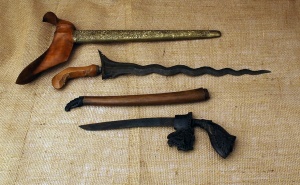 Lot 115 Pair of Kris knives, intricate carved handle and scabbard (throat is loose from the scabbard, need regluing) 12 1/2" oal, 7 1/2", carved horn, and a Damascus wavy kris blade with a carved wood handle, metal over wood scabbard. (rhh XVII-119) Minimum Bid $70.00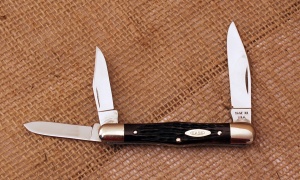 Lot 116 Case 70's dots bone 6383 swell center whittler mint. (rgot XVII-392) Minimum Bid $55.00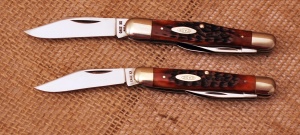 Lot 117 Pair of pretty handled Case bone whittlers, both 70's dots, 6383 swell center 10 dot and 6308 9 dot, both mint with exceptional reddish tint handles. (rgot XVII-393) Minimum Bid $95.00

Lot 118 Pair of 70's dots bone handled Case knives, 62131 canoe with plain blade and 61093 Texas Toothpick, both mint. (rgot XVII-394) Minimum Bid $70.00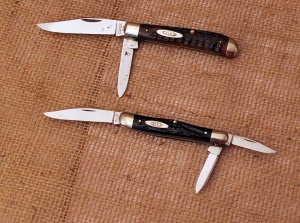 Lot 119 Two Case XX (1945-65) knives, 6207 pen unused but spotted so near mint, and rough black 6308 whittler, near mint except for a single pit on the back side of the master blade. (rgot XVII-395) Minimum Bid $90.00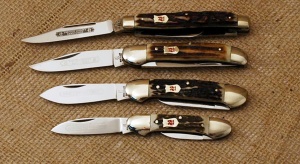 Lot 120 Four stag handled Kissing Crane Germany knives, all red crane shields, stockman 1235XIV, copperhead 2025XIV, canoe 2625XIV, and baby butterbean 2925xIV, all mint. (tlo XVII-124) Minimum Bid $125.00


Lot 121 Case XX (1945-65) jigged bone 61093 Texas Toothpick mint. I'd call it red bone but look at the pic and make up your own mind. Back handle matches the front in color. (rgot XVII-398) Minimum Bid $100.00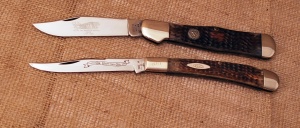 Lot 122 Pair of bone Case knives, First run of C61050 folding hunter made for the National Knife Museum and first issue 6151 toadsticker made in the 80's for the Case Collectors Club, mint. (rgot XVII-399) Minimum Bid $55.00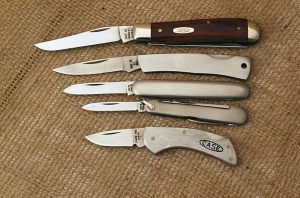 Lot 123 Five Case knives, 7207 wood handled mini trapper, M1059L, M279, M3102R, and M1057L, c. 1970's through 1989. (tlo XVII-127) Minimum Bid $65.00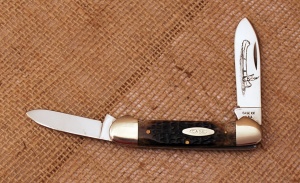 Lot 124 Case 70's etched blade canoe, 62131, some pitting on the back side of the two blades, looks mint from the front but figure cleaned to exc. (rgot XVII-403) Minimum Bid $15.00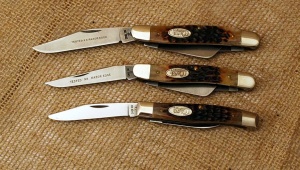 Lot 125 Three Case bone handled knives with the early 80's raised letter shield, 6347shspss, 6318shspss, and 6232. All mint. (tlo XVII-129) Minimum Bid $75.00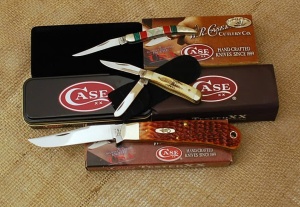 Lot 126 Three Case knives, 6.52154 Tiny trapper, fancy handled '10096 toothpick in black pearl and chestnut bone (Shepherd Hills issue), and 610546 Backpocket, all in boxes. (lmi XVII-130) Minimum Bid $105.00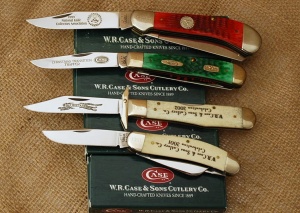 Lot 127 Four Case knives, two bone marked for the Case Celebrations in 2001 and 2002, sowbelly and 6111 1/2 lockback, plus a Christmas transition trapper with red etching, and a 1999 NKCA club knife, 62100 saddlehorn. All MIB. (lmi XVII-131) Minimum Bid $115.00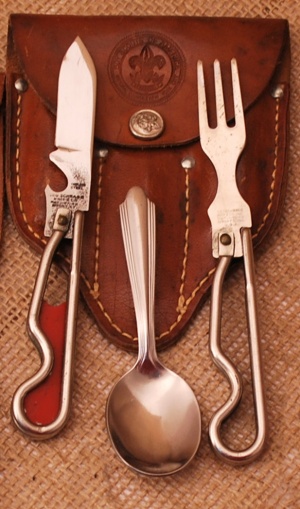 Lot 128 George Schrade official Boy Scout wire jack chow kit, fork also marked with Schrade mark, and short spoon that is often lost, leather official Scout marked sheath, minty. (rgot XVII-383b) Minimum Bid $35.00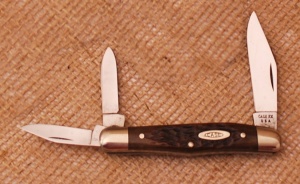 Lot 129 Case 70's dot 6308 jigged bone whittler, spotted, exc. (rgot XVII-383c) Minimum Bid $35.00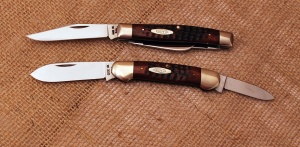 Lot 130 Pair of case 70's jigged bone knives, 62131 canoe 70's dots and 6392 stockman 9 dot (1971), both mint. (rgot XVII-384) Minimum Bid $70.00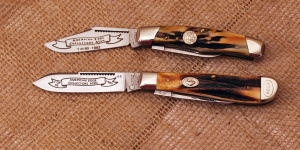 Lot 131 Pair of Cripple Creek stag handled knives made for the American Edge Collectors Association, railsplittler with slant bolsters made in 1983 1 of 80, and dogleg jack made in 1985 1 of 95. Both mint. Both with 2 blade. (rgot XVII-385) Minimum Bid $75.00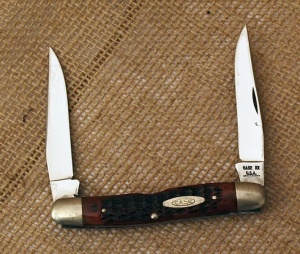 Lot 132 Case 10 dot 1970 jigged bone muskrat, near mint, both blades have been sharpened (lmi XVII-136) Minimum Bid $25.00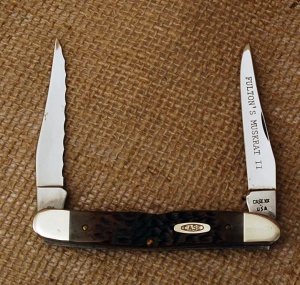 Lot 133 Case 1989 Fulton's Muskrat II, serrated 2ed blade, created by Tom Fulton of Fulton Hardware. Jigged bone handles. (tlo XVII-137) Minimum Bid $45.00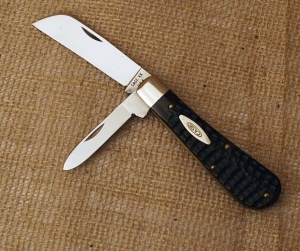 Lot 134 Case jigged bone 6217 2 blade sheepfoot. 10 dot, 1970 (tlo XVII-138) Minimum Bid $45.00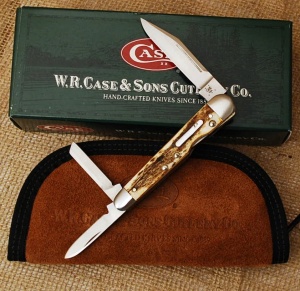 Lot 135 Case Tony Bose sleeveboard lockback whittler, stag handles, leather embossed pouch, MIB TB532005 (lmi XVII-139) Minimum Bid $120.00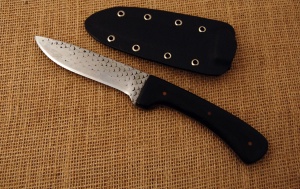 Lot 136 Al Pendray handmade hunter forged from a wood rasp, micarta slab handles, straight tang, kydex sheath. Mint, 9 1/2" oal, 4 5/8" blade (dht XV-060) Minimum Bid $50.00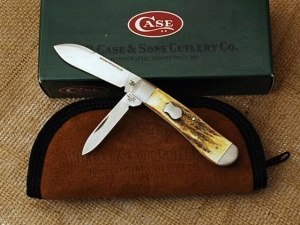 Lot 137 Case Tony Bose stag dogleg 2 blade, embossed leather zip up cases, MIB TB532003 (lmi XVII-141) Minimum Bid $125.00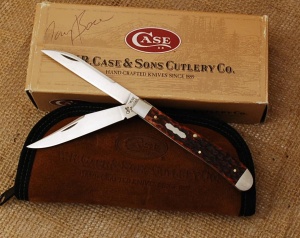 Lot 138 Case Tony Bose jigged bone 62048WH, chestnut bone, embossed leather zip up case, MIB (lmi XVII-142) Minimum Bid $105.00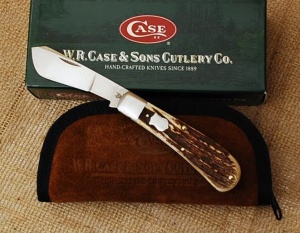 Lot 139 Case Tony Bose stag handled cotton sampler embossed leather zip up case, MIB, burnt stag, TB612008 (lmi XVII-143) Minimum Bid $130.00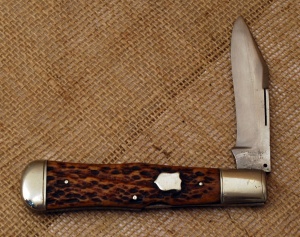 Lot 140 Cattaragus King of the Woods folding hunter with the folding guard missing, Blade good, no cracks, a great fixer upper. (alpa XVII-311) Minimum Bid $40.00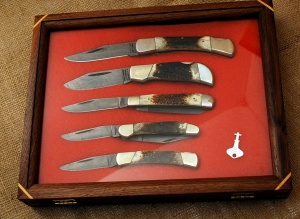 Lot 141 Set of Five Parker-Edwards Damascus knives. These were the first five patterns made by Parker-Edwards. (lmi XVII-145) Minimum Bid $115.00

Lot 142 Two Knife World knives, First and second editions produced by Knife World and made by Bob Cargill at Cripple creek, dogleg 2 blade and big cigar, both with jigged bone handles. (tlo XVII-146) Minimum Bid $45.00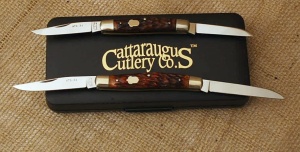 Lot 143 AG Russell Cattaraugus marked pair of Muskrats with jigged bone handles, ATS34 steel, two different sizes, coming in a fitted plastic presentation case. Mint. (lmi XVII-147) Minimum Bid $55.00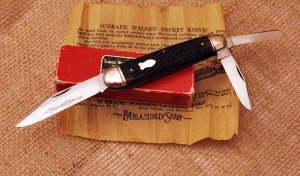 Lot 144 Awesome grouping, Schrade Walden jigged bone Carpenter's whittler in the ORIGINAL Paper and ORIGINAL Box, etched, "Everlastingly Sharp", grooved bolster, peachseed bone, pristine mint. Rare enough pattern without the other extras. Schrade wrapping papers have their own rarity. Do not miss this one. (rgot XVII-397) Minimum Bid $225.00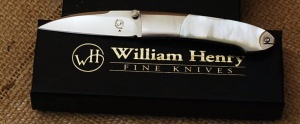 Lot 145 William Henry pearl handled wharncliffe gentleman's knife. Stainless steel frame (lmi XVII-149) Minimum Bid $120.00


Lot 146 William Henry jigged bone handled wharncliffe gentleman's knife. VG10 (lmi XVII-150) Minimum Bid $105.00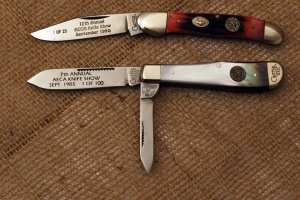 Lot 147 Two Cripple Creek knives made for the American Edge Collector knife shows, 1985 smoked pearl 2 blade dogleg 1 of 100, and 1990 one blade copperhead jigged bone, 1 of 25. Both Mint (rgot XVII-305) Minimum Bid $75.00

Lot 148 Pair of NKCA club knives, 1977 Gunboat Canoe by Kissing Crane and 1984 jigged bone Hen & Rooster lockback, both mint. #0516 (rgot XVII-306) Minimum Bid $35.00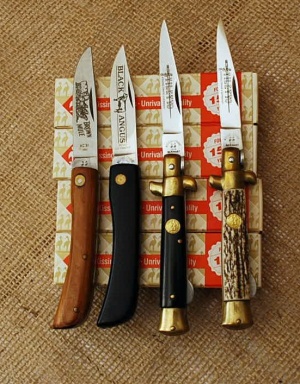 Lot 149 Four Kissing Crane Robert Klass German made knives, stag stiletto lockback, black composition stilette etch, Black Angus composition handled sodbuster, and wood handled Brown mule sodbuster, all MIB. (tlo XVII-153) Minimum Bid $40.00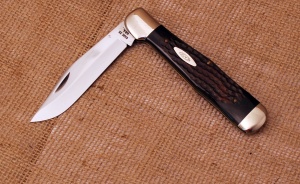 Lot 150 Case 70's dots C61050 folding hunter, jigged laminated wood handles, one spot, otherwise mint. (rgot XVII-381) Minimum Bid $50.00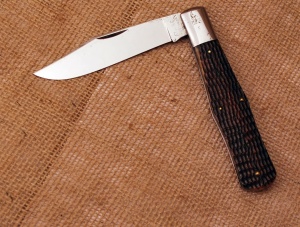 Lot 151 Case Tested green bone 61050 big barehead coke bottle folding hunter, iron bolsters (c.1940's), flat ground, cleaned to near mint. (rgot XVII-382) Minimum Bid $205.00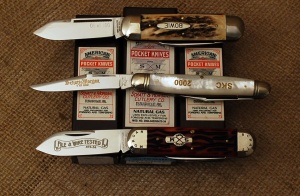 Lot 152 Three top collectible knives, Bowie Corp stag handled small equal end, almost a baby sunfish, same pattern in a Schatt & Morgan file and wire tested and ATS34 steel, and a pearl grooved bolsters muskrat marked SKC 2000 (Soy Knife Collectors?). All MIB. (lmi XVII-156) Minimum Bid $125.00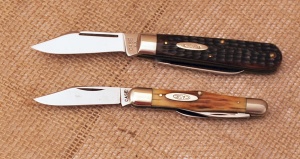 Lot 153 Case XX pair of knives, 5383 swell center whittler with a couple of stress checks exc and a 62031 1/2 long pull, cleaned to vg. (rgot XVII-391) Minimum Bid $65.00

Lot 154 For Kabar Knives, two blade large saddlehorn trappers made for the Ka-bar Collectors club in 2001, 2003, 2004, and a lockback marked "First Production Run" 1999 KA-BAR Collector's Club, all MIB (lmi XVII-158) Minimum Bid $105.00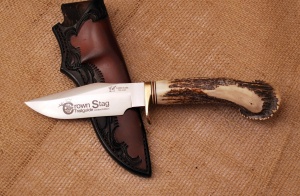 Lot 155 Blackjack Classic Blades, Effingham, IL crown stag Trail Guide and etched as a limited edition. A2 tool steel. Fancy tooled leather sheath by Treestump Leather is not original to the knife but made to fit it, mint. (wcav XVII-375) Minimum Bid $80.00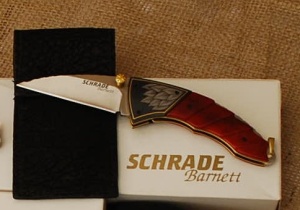 Lot 156 Schrade-Barnett lockback with red carved bone handles, designed by Van Barnett. (lmi XVII-160) Minimum Bid $70.00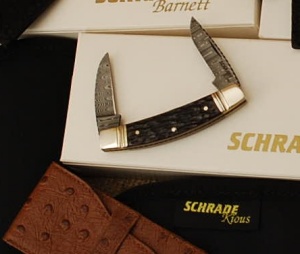 Lot 157 Schrade-Kious jigged bone reverse congress with Damascus blades, designed by knifemaker Joe Kious. With an imitation alligator pattern pocket case. MIB (lmi XVII-161) Minimum Bid $70.00


Lot 158 Pair of knives, Hoffritz 4" pearl stockman etched "Hand Forged" etched, HAPO 4" stag handled canoe, mint. (tlo XVII-162) Minimum Bid $60.00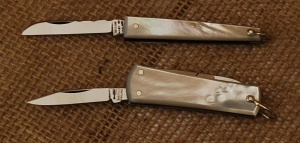 Lot 159 Pair of exquisite Ibberson pearl handled Sheffield knives, made for Ibberson by Stan Shaw and marked on the liner SS57" (1957) Princess Margaret" model, worked back, created as the same pattern presented to Princess Margaret when she visited Sheffield in the 60's, plus and Ibberson lobster, SS77 on the inside liner (1977) both mint. (tlo XVII-163) Minimum Bid $200.00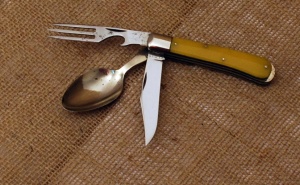 Lot 160 KA-BAR, three blade take apart hobo, yellow composition handles, cleaned to exc, except for a couple of deep pits on the back of the master blade. (rgot XVII-336) Minimum Bid $150.00

Lot 161 Group of six matching lockbacks by A. G. Russell, bullet shields, handled in black pearl, white pearl, stag, smooth bone, ivory micarta, and ebony. Comes in a zip up case designed to hold all six knives, mint. 3 1/2" closed, outside of the case is banged up. (lmi XVII-165) Minimum Bid $150.00


Lot 162 Pair of Case vintage green bone handled knives, Case XX 6332 (1945-65) exc and 62035 1/2 very good with a Case Tested mark. (rgot XVII-388) Minimum Bid $100.00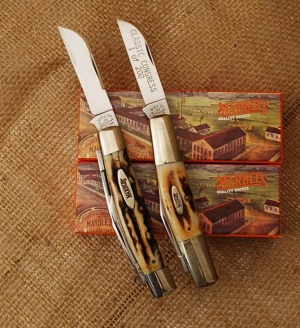 Lot 163 Pair of Marbles USA made stag handled congress knives, 4" or so long, one with standard bolsters, the other with extended bolsters and etched "Class Congress, 1 of 200", both MIB. (lmi XVII-167) Minimum Bid $85.00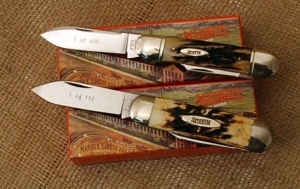 Lot 164 Pair of Marbles USA made stag handled knives, baby sunfish and canoe with grooved and pinched bolsters. Both MIB (lmi XVII-168) Minimum Bid $85.00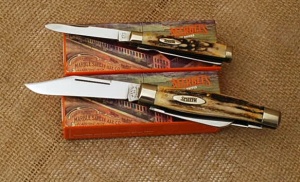 Lot 165 Two Marbles USA knives, Small 2 blade physicians with spatula, and jumbo stockman long pull, both MIB (lmi XVII-169) Minimum Bid $75.00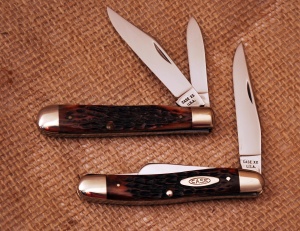 Lot 166 Pair of Case bone handled Case USA knives (1965-70) 6318 sh PEN and 6214 1/2, both mint (rgot XVII-389) Minimum Bid $70.00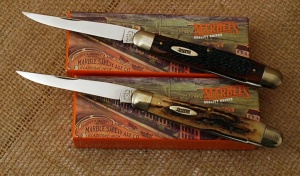 Lot 167 Matched pair Marbles USA muskrat knives, one with stag handles, the other jigged bone, both MIB. (lmi XVII-171) Minimum Bid $80.00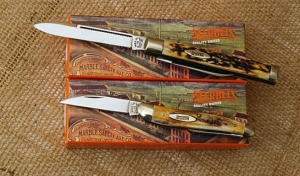 Lot 168 Two Marbles USA knives with genuine stag handles, small wharncliffe, and stand two blade physicians long pull with pen second blade, both MIB. (lmi XVII-172) Minimum Bid $85.00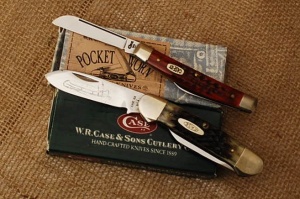 Lot 169 Pair of Case knives, new grind 62131 canoe (1980's) and 62052 long pull. Both MIB (jctx XVII-173) Minimum Bid $50.00

Lot 170 Pair of Remington jigged bone Silver Bullets (sterling silver bullet shields), R1123 and R1303 patterns both with engraved bolsters, MIB. (rgot XVII-358) Minimum Bid $60.00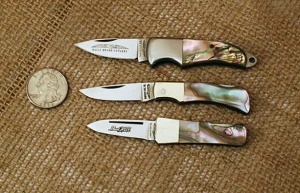 Lot 171 Three Parker Cut. Co. pearl handled knives, Boothill, little Mustang, and a Unique lockback, all mint. (tlo XVII-175) Minimum Bid $40.00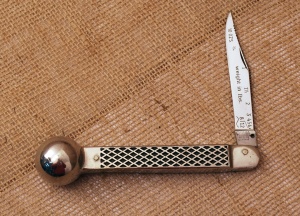 Lot 172 Puma folder with large round ball on end (this is not a fish knocker as often described but more as a counter balance, made for the hole in the tang to hold a ring, and with monofilament holding your fish, hang on the serrations on the upper blade and thus having a balance scale. Original lanyard missing, but mint. (rgot XVII-374) Minimum Bid $45.00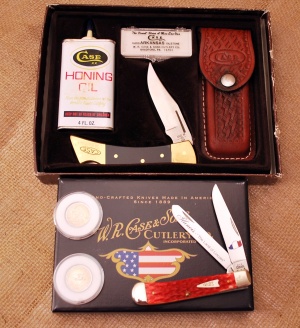 Lot 173 Case pair of Gift sets, hammerhead with leather sheath, Arkansas stone and can of Case honing oil, plus Case Illinois state trapper with two encased state's quarters in presentation case, jigged red bone handles, both MIB (rgot XVII-356) Minimum Bid $50.00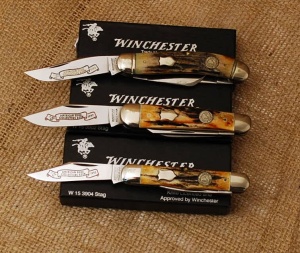 Lot 174 Three Winchester stag handled knives made for the American Edge Collectors Association, sowbelly, sleeveboard whittler, and swell center whittler, all with AECA shields plus crest shields. MIB. Patterns 3904, 3902, and 3949. (lmi XVII-180) Minimum Bid $85.00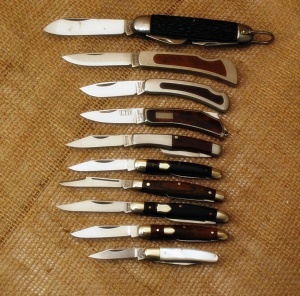 Lot 175 Group of 10 knives, Kershaw, Frontier, Fight'n Rooster pearl, Camco scout Camillus, Schrade, various small patterns. All minty (tlo XVII-181) Minimum Bid $100.00


Lot 176 Wards four blade stockman, with punch, jigged Rogers bone handles, mint, pre 1960. 3 7/8" closed. (rgot XVII-297) Minimum Bid $50.00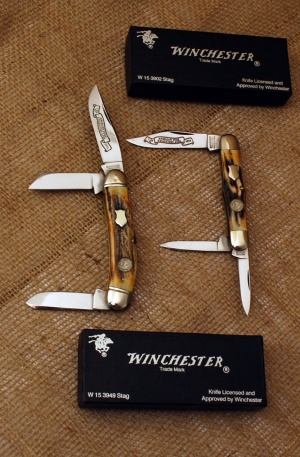 Lot 177 Pair of knives made for the American Edge Collectors by Winchester, three blade sowbelly and swell center whittler, #3902 and #3949, both MIB (rgot XVII-299) Minimum Bid $90.00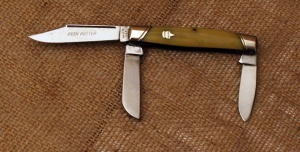 Lot 178 Keen Kutter etched blade premium stock knife, slant grooved bolsters, keystone shield, long pull, tang marked "Made in USA", unused, mint except for some age specking waterfall celluloid handles. (rgot XVII-300) Minimum Bid $70.00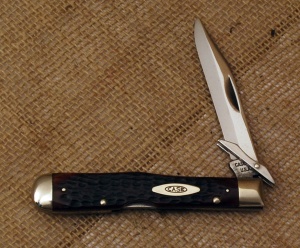 Lot 179 Case USA (1965-70) jigged bone 6111 1/2 folding guard lockback exc (rgot XVII-301) Minimum Bid $50.00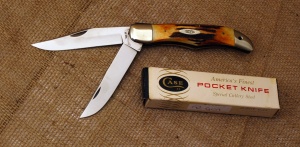 Lot 180 Case 10 dot (1970) 5265 SAB folding hunter, stag, mint, in Case gift box that sold as an option during that time. (rgot XVII-314) Minimum Bid $100.00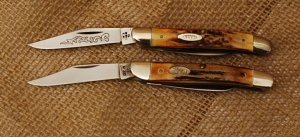 Lot 181 Pair of stag handled Case knives, 52087 blue scroll (1977) and 80's 52087 with raised letter shield. Both mint. (dnk XVII-187) Minimum Bid $65.00

Lot 182 Ulster etched and mint Fish knife, 2 blade, red handles that have shrunk a bit but still good, etched "Ulster, Stainless Steel", nice. With original leather sheath but stitching loose on the bottom. (rgot XVII-372) Minimum Bid $45.00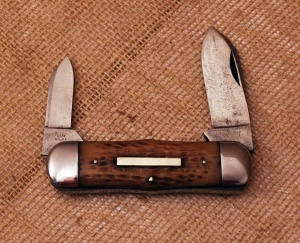 Lot 183 Robeson Shuredge Rochester swell center sunfish, #626409 bar shield, bone handle, iron bolsters, back of pen blade marked "Made in USA", very good condition. 4 1/4" closed. (rgot XVII-373) Minimum Bid $100.00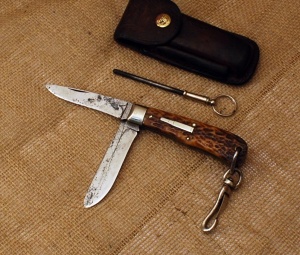 Lot 184 Rare Remington workman's set, 1123 Bullet, with heavy duty shackle and belt clip, and Remington marked sheath that holds the knife along with a sharpening steel with ring top, all well used, good only condition, but there is something about this that rings out kool. (alpa XVII-313) Minimum Bid $150.00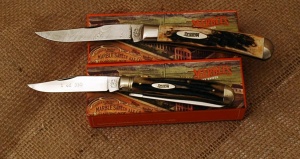 Lot 185 Pair of stag handled Marbles USA knives, one blade trapper standard size prototype, one of 11 made in stag, and a two blade mini trapper with 1 of 40 etched blade, Both MIB (lmi XVII-191) Minimum Bid $75.00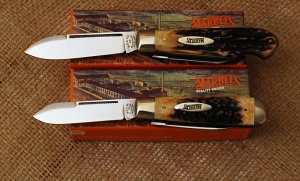 Lot 186 Pair of Marbles USA made knives, jacks, easy open barehead jack, and swell end English jack, both with matchstriker nailmarks, MIB (lmi XVII-192) Minimum Bid $65.00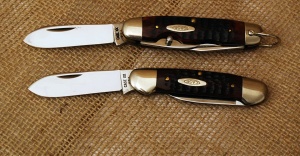 Lot 187 Pair of 70's dots bone handled knives, 6445R scout utility pattern and 62131 unetched canoe, both mint. (tlo XVII-193) Minimum Bid $85.00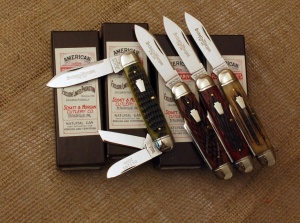 Lot 188 Group of four Schatt & Morgan cattle knife whittlers, 2004 one of 100, keystone shields and four different jiggings of bone handles: winterbottom, antique green, crimson and amber. (lmi XVII-328) Minimum Bid $110.00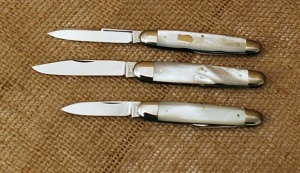 Lot 189 Three Bruckmann whittlers, hese exquisite quality knives were reportedly made pre World War ONE, and discovered in an old warehouse in Solingen, Germany in the 70's. c. 1912. Mint. Extremely well made. 3 3/8" and 3" (tlo XVII-195) Minimum Bid $135.00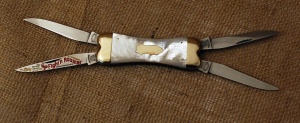 Lot 190 Fight'n Rooster pearl handled back to back muskrat made for the 20th anniversary of Fight'n Rooster in 1995. One of 100. Etched blade. (lmi XVII-196) Minimum Bid $60.00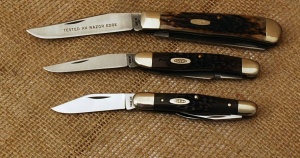 Lot 191 Three Case knives, 6254ss, 6318, by 1980's, and 70's 6308 whittler, all mint. (tlo XVII-197) Minimum Bid $70.00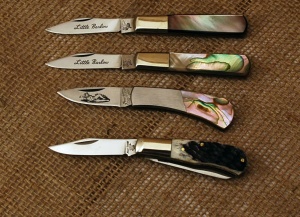 Lot 192 Four Frost Cutlery knives, Little Barlow in black pearl and abalone, Shady Lady in abalone, and baby bullet in jigged bone. All mint, Japan. (tlo XVII-198) Minimum Bid $40.00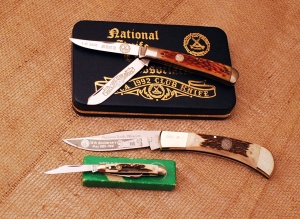 Lot 193 Trio of NKCA knives, 1992 Sargent trapper jigged bone in presentation Case, 10th Anniversary of the National Knife Museum with genuine stag handles (Cargill lock) and Hen & Rooster #303 stag three blade pen, all mint. (jgmi XVII-359) Minimum Bid $50.00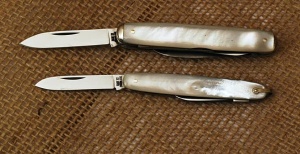 Lot 194 Pair of 1970's Case pearl handled knives, 83064 and 82053R, both mint. (tlo XVII-200) Minimum Bid $55.00

Lot 195 Trio of matching Henckels, Germany equal end pen knives with slant bolsters, handled in pearl, bauffalo horn and genuine stag, all mint. (tlo XVII-201) Minimum Bid $55.00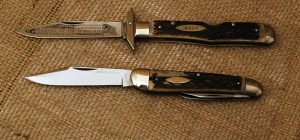 Lot 196 Pair of stag handled German made knives, 1976 Bicentennial folding guard lockback made by Kissing Crane, mint with etched blade, and Coles Germany wharncliffe whittler with a clip blade, etched, "Hand Forged", both mint. (tlo XVII-202) Minimum Bid $65.00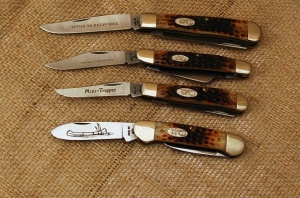 Lot 197 Four Case raised letter shield knives from the 1980's, 6254ss, 6347ss, 6207ss mini trapper, and 62131 canoe. All mint. (tlo XVII-203) Minimum Bid $125.00

Lot 198 Four Frost Cutlery scrimmed genuine pearl Executive lockbacks, MIB. Different bird scenes on the handles. Fileworked backsprings. (lmi XVII-321) Minimum Bid $80.00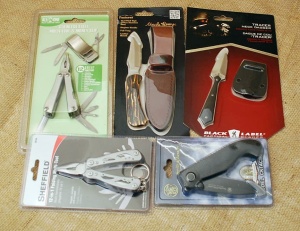 Lot 199 Group of five carded knives, two multi-tools, Uncle Henry hunter, neck knife, and Smith & Wesson. All mint. (lmi XVII-205) Minimum Bid $50.00