J. Bruce Voyles, Auctioneers Knife Auction 119LAST AUCTION OF THE YEAR!
Auction Ends Tuesday, April 28, 2020
Bidding begins NOW!

Bids begin closing at 10:30 Eastern time and close incrementally until all lots close.
THIS IS THE HIGH-RES CATALOG--
TO BID YOU MUST GO TO THE BIDDING PAGE BY CLICKING HERE
How to bid? Click here                                    Home

These are the terms that govern this auction. Click here to read them.
Lot 1 Keith Coleman Albuquerque, NM handmade folder with elaborate, Dale Fisk elaborate scrimshaw on both sides of the mastodon handles. Dovetailed bolsters, locking liner, 5" closed, 9" open, mint except for a few storage scratches on the handle. Exceptional knife. (scgb fl20-259) Minimum bid $300.00

Lot 2 Keith Coleman Albuquerque, NM handmade folder with elaborate, Dale Fisk scrimshaw on both sides of the handle, Damascus blade, Damascus dovetailed bolsters, 3 7/8" close, 7" open, locking liner with thumbstud. (scgb fl20-235) Minimum bid $300.00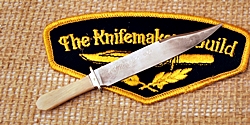 Lot 3 Ron Fraizer miniature coffin bowie with mastodon handle, Damascus blade, dated '96, 4 1/4" oal. (fpm fl20-336) Minimum bid $80.00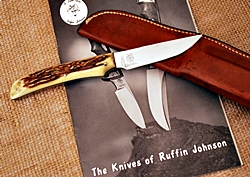 Lot 4 Ruffin Johnson El Lobo Solo stag hunter, straight tang with black liners, 7 7/8" oal, 3 1/4" blade, speck or two, leather sheath, has been carried but not hurt. Catalog not included. (ahmi fl20-366) Minimum bid $60.00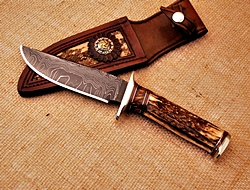 Lot 5 Randy Lee Bowie, 10 7/8" oal, 5 5/8" blade, Alabama Damascus, pine cone resin ferrule, snakeskin windowpane sheath but some of the skin has dried and flaked away. (rla fl20-365) Minimum bid $200.00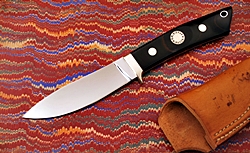 Lot 6 Corbett Sigman semi skinner, micarta handles, drilled for lanyard, typical near-flawless execution by one of the masters. Tapered tang, sculped handle, pouch leather sheath that shows some stains. 8 1/2" oal, 4 1/4" blade. (rel fl20-360) Minimum bid $225.00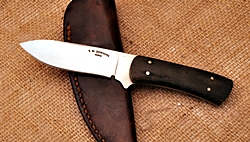 Lot 7 Tom Downing handmade hunter, micarta handles, straight tang, 7 1/2" oal, 3 3/8" blade, mint, leather sheath. (ahmi fl20-291) Minimum bid $100.00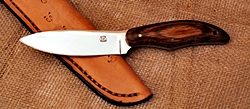 Lot 8 Doyal Nolen handmade version of a Russell skinner, stamina wood handles, straight tang, 8 1/2" oal, 4" blade, deer track imprint across the pouch leather sheath. (ahmi fl20-289) Minimum bid $70.00

Lot 9 Ralph Bone classic wood handled hunter, brass fittings, 10 5/8" oal, 6" blade, marked on back of tang "C-102", white stone in the sheath pocket, but is broken (both pieces are there) Heavy duty leather sheath. Cleaned to near mint. (rgot fl20-283) Minimum bid $200.00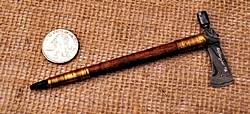 Lot 10 Ron Fraizer miniature hatchet with wire wrapping, 5 1/4", Damascus head, dated '98 (fpm fl20-338) Minimum bid $70.00

Lot 11 Randy Lee, mammoth handled hunter, scrimshaw decoration around the pin heads by Linda Karst. (rla fl20-363) Minimum bid $225.00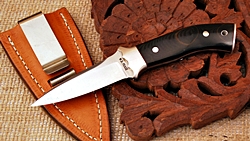 Lot 12 W. D. Pease boot knife, tapered tang, micarta handles, sculpted guard, metal pommel, 7" oal, 3 1/8" blade, booth sheath. (rel fl20-361) Minimum bid $200.00


Lot 13 C. M. English handmade bone handled folder, lockback, with the Z McCarty style fold over thumbstud. Dovetailed bolsters (tgg fl20-111) Minimum bid $80.00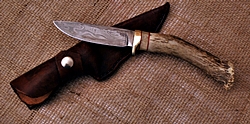 Lot 14 Douglas Ward, Franklin GA stag handled Damascus hunter, spacer of stag too at the brass guard, crown stag, with leather sheath mint. 8 1/4" oal, 3 3/4" blade. (tgg fl20-113) Minimum bid $40.00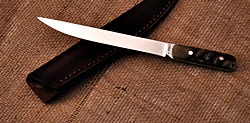 Lot 15 M. Poole handmade sheephorn handled fillet knife, straight tang, drilled for lanyard, mint. 8 3/4" oal, 5 3/4" blade, #1988-654 on back of tang. (tgg fl20-114) Minimum bid $60.00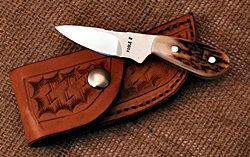 Lot 16 Poole 2 handmade stag handled small hunter, with tooled leather flap sheath, mint. Straight tang, 4 3/4" oal, 2 5/8" blade. (tgg fl20-115) Minimum bid $60.00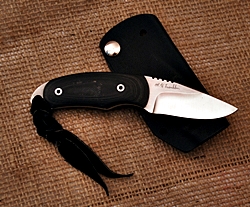 Lot 17 Mike Franklin handmade Wild Hog G10 handled small hunter with Kydex sheath, with lanyard, mint. 5 1/2" oal, 2 3/4" blade. (tgg fl21-164) Minimum bid $50.00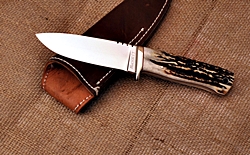 Lot 18 McCarty handmade stag handled drop point hunter, red liners, straight tang, drilled for lanyard, with a pouch leather sheath, mint. 9" oal, 4 1/2" blade (tgg fl21-166) Minimum bid $60.00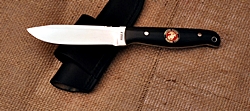 Lot 19 Poole 2 handmade micarta handled hunter with straight tang, inset with a US Marine emblem, horizontal carry leather sheath. Mint. #16-616 on reverse of tang. (tgg fl21-167) Minimum bid $50.00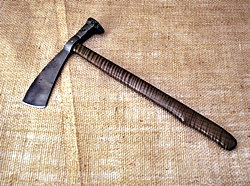 Lot 20 Chuck Hawes handforged tomahawk handmade from a railroad spike, shaped curly maple handle. 12 5/8" long, 7 1/2" head with a 1 1/4" sharpened edge. (lmi fl21-193) Minimum bid $70.00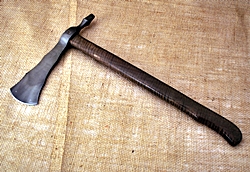 Lot 21 Chuck Hawes tomahawk handmade, shaped curly maple handle. Mosaic pin, 16 1/4" oal, 10" head, 2 3/4" sharpened edge. (lmi fl21-194) Minimum bid $70.00

Lot 22 Fan stamped mark, etched handmade pipe tomahawk, crossed Bowies on one side, war club and hawk on another, leather edge cover, decorative handle. 16" long, 6" head, 3" sharpened edge. Mint (lmi fl21-204) Minimum bid $70.00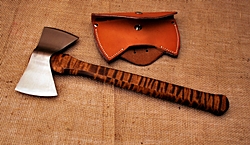 Lot 23 Lee Reeves Handmade Nessmuck model double bit hand ax, curly maple handle, leather sheath, 15 1/4" oal, 6" head, 3 1/8" sharpened edge on each side. (lmi fl21-206) Minimum bid $150.00


Lot 24 W. R. Clark Handmade locking liner folder, thumbstud, anodized titanium handle and locking bar. 4 3/4" closed, 7 5/8" open. (sdga fl21-218) Minimum bid $85.00


Lot 25 Corbit handmade folder, bead blasted finish, micarta handles, locking liner with thumbstud, mint. 4" closed, 7 5/8" open. (sdga fl21-216) Minimum bid $60.00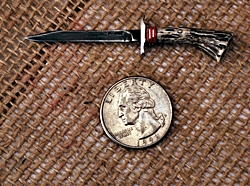 Lot 26 Jerry Bodner handmade miniature crown stag appearing bone hunter. Stacked washers, mint. 2 5/8" oal, 1 1/2" blade. (rgot fl21-217) Minimum bid $30.00


Lot 27 Case 1970's C61050 folding hunter, mint except for some specks. (kso fl20-067) Minimum bid $40.00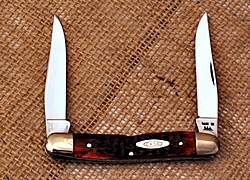 Lot 28 Case 1970's jigged bone muskrat, 8 dot. (kso fl20-068) Minimum bid $50.00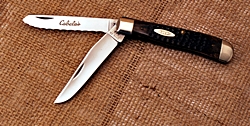 Lot 29 Rare Case 1980's trapper, made exclusive for Cabelas and distinguished because of the miracle edge spay blade. (lmi fl20-069) Minimum bid $45.00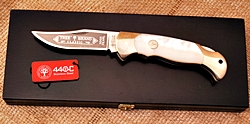 Lot 30 Boker pearl handled lockback, 2005 limited edition, in wood presentation box. Mint (tlo fl20-070) Minimum bid $75.00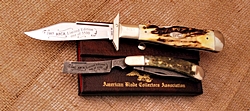 Lot 31 Pair of ABCA club knives issued in 1987, 51050L folding guard front lock folding hunter with raised letter shield, and a smooth green bone Parker Edwards Damascus Razor trapper, in a gold embossed knifepak. (lmi fl20-074) Minimum bid $80.00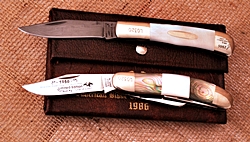 Lot 32 Pair of knives made for the ABCA in 1986, matching serial numbers, pearl one blade Damascus trapper, and a four blade pearl sowbelly by American Blade with pieced pearl and abalone handle. (lmi fl20-075) Minimum bid $60.00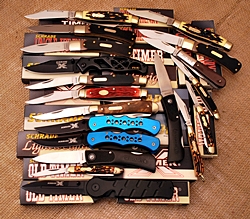 Lot 33 Nineteen Schrade knives of various patterns, most in the original boxes, all imported. (2) 885UH, XTB, 77RPB, &&)T, (2) SH3, (3) 5OT, (2) SCHDLB, 278, 104OT, 94OTW, XT9B, 707UH, 12UH, and 804 UH. (lmi fl20-076) Minimum bid $100.00

Lot 34 Zippo Collectors Case with 12 different Zippo lighters, all from the "OTLS" On the Lighter Side events. Dallas 1995, Vegas 1996, New Orleans 1997, Vegas 1998, Cornwall CT 1999, Chicago 2005, Vegas 2006, Washington DC 2007, VEGAS 2008, Cleveland OH 2009, Vegas 2010, Nashville 2011. (kso fl20-077) Minimum bid $90.00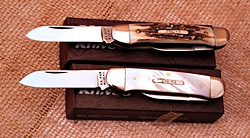 Lot 35 Pair of Ka-bar canoe knives, one stag, one in pearl, both in the original box. Mint. (lmi fl20-079) Minimum bid $40.00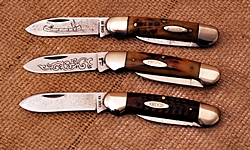 Lot 36 Three Case canoes, 52131 stainless stag canoe, blue scroll, 1977 nm, and 62131 70's exc, and a rehandled in stag used bone canoe with etched blade, vg. (kso fl20-080) Minimum bid $40.00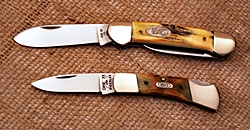 Lot 37 Pair of Case stag handled knives, 80's 52131 stag canoe with raised letter shield, and stag lockback 51225Lss. Both mint. (kso fl20-081) Minimum bid $65.00


Lot 38 Pair of Case bone handled baby copperheads, one a limited edition 1 of 2500 Case select, and a wharncliffe blade with blue bone handles. Both mint. (kso fl20-082) Minimum bid $35.00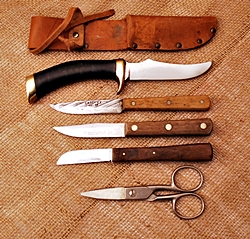 Lot 39 Group of five items, unmarked handmade with stacked leather micarta handle 8 3/8" oal, 4" blade, Marked on the sheath, "Made in the Frigidaire plant in the late 1970's exc, three Case paring knives, one carving knife and Case scissors. Exc. (kso fl20-083) Minimum bid $10.00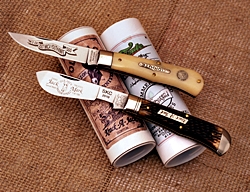 Lot 40 Pair of Great Eastern knives, Ole Jack SKC 12010 Cotton sampler and 1 0f 500 2007 NKCA Youth knife with smooth bone handles. Both mint in tubes. (lmi fl20-084) Minimum bid $50.00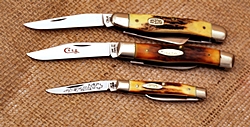 Lot 41 Trio of Stag handled Case knives, modern 5318shsp, 5232 red etch (1978), and 5233 blue scroll (1977), all mint. (kso fl20-085) Minimum bid $75.00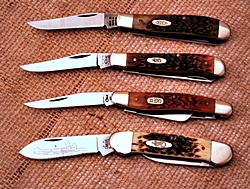 Lot 42 Four Case bone handled knives, modern, 6207 ss, 6207 polished, 6318 sh sp, and 52131 bone canoe, all unused but there are some specks on the canoe. (lmi fl20-086) Minimum bid $70.00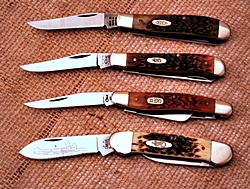 Lot 43 Four Case composition handled knives, 70's, 4254 white trapper, 32095 fish knife with hook sharpener shield, 3347 shsp and 3318 shsp. Rivet crack on the trapper. (lmi fl20-087) Minimum bid $55.00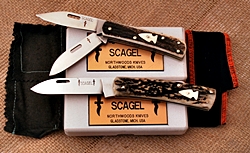 Lot 44 Two Scagel repo made by Northwoods Knives of Gladstone, MI, a one blade 2005 4" closed and two blade, stag handles, both with arrowhead shields, in extra heavy duty plastic boxes. Mint. (lmi fl20-088) Minimum bid $85.00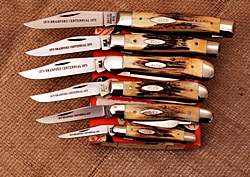 Lot 45 Case stag handled 1979 Bradford Centennial stag set, 5275ss, 5292ss, 6249 copperhead, 5207 mini trapper ss, 5318shspss, and 52027ss. All mint. (lmi fl20-089) Minimum bid $200.00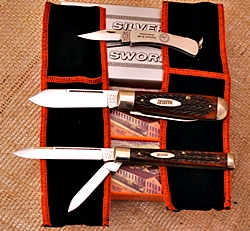 Lot 46 Three knives, two Marbles USA made modern era knives, two blade English jack bone and 2 blade pen Doctors knife, both MIB in the box, and a Silver Sword NKCA membership premium knife, All mint. (lmi fl20-090) Minimum bid $60.00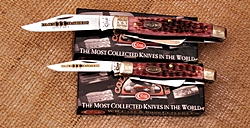 Lot 47 Two Case CCC Family Traditions knives, mint set gold etched blades, 6375 cranberry bone with scroll bolsters and 620032 bone, both from a mint set, scroll bolsters. (lmi fl20-091) Minimum bid $50.00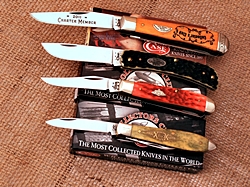 Lot 48 Four Case knives, 2011 smooth bone Shepherd Hills collectors club persimmon bone charter member knife, 6137 jigged bone bolsterless sodbuster, 6207 red bone mini-trapper, and teardrop jack 2014 TB62028 olive green, three boxes, all mint. (lmi fl20-092) Minimum bid $85.00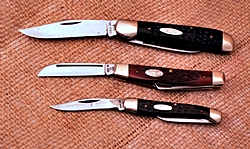 Lot 49 Three bone handled Case knives, 6269 copperhead 70's exc, 63052 raised letter shield whittler mint, and 62109x baby copperhead 70's bone, vg. (kso fl20-093) Minimum bid $40.00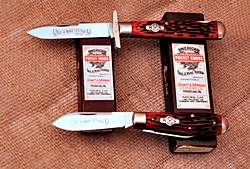 Lot 50 Pair of Schatt & Morgan "File and Wire Tested" etched knives, folding guard lockback and teardrop jack with worm groove jigged handles, both MIB. (lmi fl20-094) Minimum bid $55.00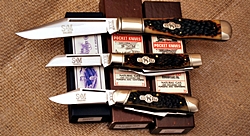 Lot 51 Three Schatt & Morgan premier series knives, grooved bolsters, coke bottle folding hunter, four blade congress, and Railsplitter three blade with slant bolsters, all mint in the box. (lmi fl20-095) Minimum bid $65.00

Lot 52 Not quite the holy grail for Official Boy Scout knife collectors, but very close. Ulster Dwight Devine & Sons marlin spike with jigged bone handles, and etched, "Official Seascouts Knife, with the scout emblem over an anchor and B.S.A." blade are full etching plain but a little faded, mirror polished on the front, brushed finish on the back, distinctive scout shield, near mint. (lmi fl20-386) Minimum bid $200.00

Lot 53 Blade Trading Cards, 72 knife cards created in 1972. Great for kids, in original unopened factory pack. (78-DSC_0184-rel) Minimum Bid $5.00 (rel 78-DSC_0185) Minimum bid $5.00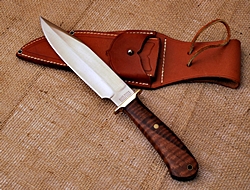 Lot 54 Bark River Knife & Tool Ltd Ed, Escabana, MI Bowie, hidden tang, 12 1/2" oal, 7 1/4" blade. (jfn fl20-002) Minimum bid $50.00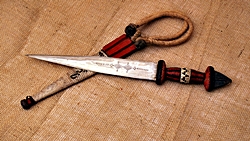 Lot 55 Ethnic dagger, leather handle, snakeskin over the sheath, two wrist thongs, 15" oal, 10" blade. (DLT fl20-007) Minimum bid $15.00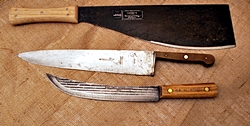 Lot 56 Corneta Solingen sugar cane machete, Henckels 102-12, and Shapleigh mark Old Hickory (lmi fl20-017) Minimum bid $20.00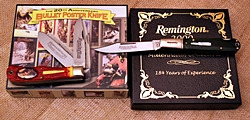 Lot 57 Remington 20th anniversary of the bullet poster series on an 1123 pattern with delrin handles, and pearl shield Daddy Barlow with smooth green bone handles, both MIB (jgmi fl20-019) Minimum bid $35.00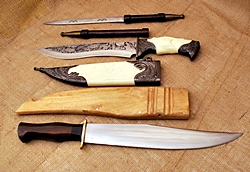 Lot 58 Three knife related items, unmarked large wood handled Bowie with wood sheath 18 1/2" oal, 15" blade, leather quirt with blade inside, 14 1/2" oal, 8 1/2" blade, and plastic handled and sheath import 15 1/2 oal. (dlt fl20-032) Minimum bid $5.00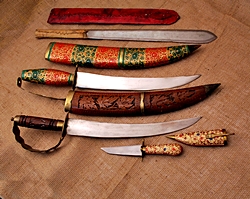 Lot 59 Unusual imported knives, unmarked, Handmade long slender knife with tape handle, leather sheath, 19 1/2" oal, painted fancy knife 7" oal, D guard with matching painted handle and sheath loose on the pommel 18", and a carved wood India made D-guard 17" oal. various conditions. (dlt ) Minimum bid $5.00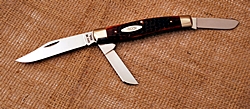 Lot 60 Case 70's 8 dot 6375 jumbo stockman, bone handles, mint. Reddish tint handles. (rgot fl20-385) Minimum bid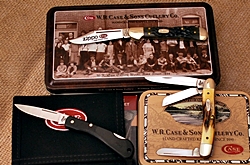 Lot 61 Three Case boxed items, 1998 Zippo/Case Swap Meet etched on a Copperlock with jigged bone handles in a metal tin, a Case 5318 stag serpentine in a color metal tin, and a Case thermoplastic lockback with a Case marked wallet in original box. (tlo fl20-096) Minimum bid $50.00

Lot 62 Case Elk Horn Cowboy series pearl handled front lock folding hunter, fileworked backsprings, in presentation case, on is etched with a bucking bronco theme, the other a steer roper. Both MIB (lmi fl20-148) Minimum bid $50.00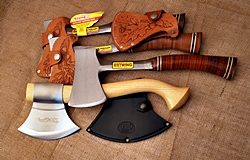 Lot 63 Four axes, three Estwing No. 1 with metal shank, stacked leather washer handles, and a fox curved wood handled ax with leather sheath. All mint. (lmi fl20-098) Minimum bid $40.00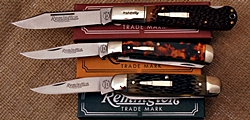 Lot 64 Three modern era Remington knives R1630 2002 lockback Daddy barlow fish knife, Imitation tortoise handled trapper 295T, 2002, and jigged bone muskrat, 4353B, 2005 all MIB (jgmi fl20-099) Minimum bid $50.00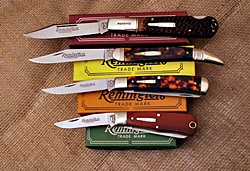 Lot 65 Four modern era Remington knives R1630 lockback Daddy barlow fish knife, Imitation tortoise handled trapper 295T, imitation tortoise toothpick R1615T and smooth laminated wood baby bullet 1178C. , all MIB (jgmi fl20-100) Minimum bid $60.00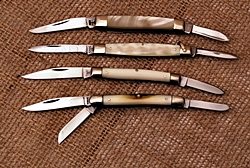 Lot 66 Four Case imitation pearl handled knives, Case XX 9233, Case XX 92042R vg, 9327 with a burnt spot at the center river near mint, and 1980's 92033 nm. (kso fl20-101) Minimum bid $15.00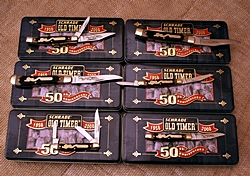 Lot 67 Six Old Timer knives 50th anniversary knives, issued in 2008 in color tins, 33OT, 77OT, 194OT, 808OT, (lmi fl20-102) Minimum bid $45.00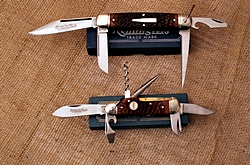 Lot 68 Remington pair of delrin handled modern bullets, large scout knife 1994 R4253 and six blade scout knife with the round bullet shield 1996 R3843, both MIB (JGMI fl20-103) Minimum bid $35.00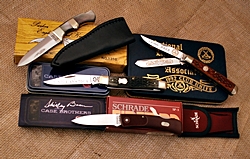 Lot 69 Four collectible knives, Case Brothers moose marked 2004 Historian's Tour, Shirley Bosier, Schrade SP-3 USA made, Parker Eagle folding dagger push dagger with black pearl handles, and 1992 NKC Sargent bone handled trapper in presentation box. All mint. (lmi fl20-104) Minimum bid $60.00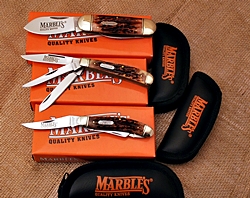 Lot 70 Three Marbles knives, imported, each with a zip up Marbles pouch, jigged bone handles, sunfish, three blade trapper, and three blade sowbelly, all with grooved bolsters and MIB. (LMI fl20-105) Minimum bid $20.00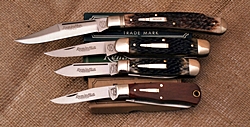 Lot 71 Four Remington Bullet knives, Silver Bullet R1253, 2003 1178C, R103B 2004, and R4354B, no box for the silver bullet. (jgmi fl20-106) Minimum bid $55.00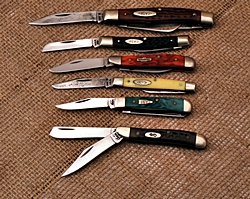 Lot 72 Half dozen Case knives, 6220 peanut with a long spay blade mint, jigged bone tiny trapper mint, USA 3233 vg, Peanut with red bone handles chipped so vg , 6269 70's dots with delrin handles, nm, and 6332 USA low very good. (KSO fl20-107) Minimum bid $55.00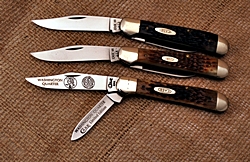 Lot 73 Three Case copperheads, two from the 1980's 6249 with the pen blade, and a Washington Quarter limited edition with both blades etched (no box). All mint (KSO fl20-108) Minimum bid $80.00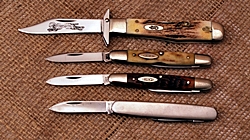 Lot 74 Four Case knives, stag handled Cheetah cub 511 1/2 Mint, USA 05263ss nm, 06263ss USA with mirror polished blade and the much rarer "Tested XX Stainless" etch, mint, and USA M279 scratched so near mint. (KSO fl20-109) Minimum bid $55.00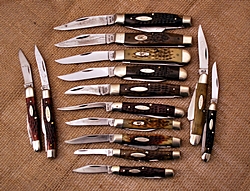 Lot 75 Fourteen vintage Case knives, ranging from mint to very good, a little bit of everything here, stockman, trapper moose, copperhead, muskrat, whittlers, serpentine stag. See photo and bid accordingly. Includes 5347g gray etch, 10 dot 6383, 2 moose. (SKO fl20-110) Minimum bid $100.00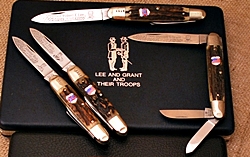 Lot 76 Kissing Crane Civil War set produced by Parker-Frost in the mid-70's, two large Anglo Saxon whittlers (Lee and Grant) and two small stag handled whittler (Billy Yank, Johnny Reb), in a fitted presentation Case. (TLO fl20-116a) Minimum bid $75.00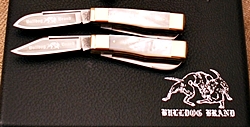 Lot 77 Bulldog Brand gunstock trapper limited edition set from the earliest days of Bulldog Brand, mother of pearl handles, in a fitted presentation case, mint. (TLO fl20-116b) Minimum bid $80.00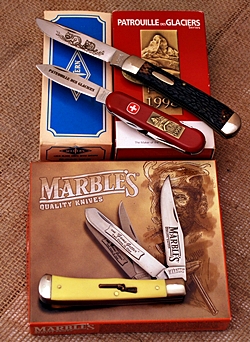 Lot 78 Three knives, Western one blade 693 Delrin trapper with raccoon etching, C date, Victorinox 1998 limited edition, and Marbles modern yellow handled trapper with a Game Getter shield and matching etching, both MIB. (lmi fl20-118) Minimum bid $35.00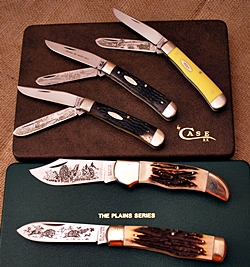 Lot 79 Two limited edition knife sets, Elkhorn stag handled Plains series, large gunstock and smaller clasp knife, plus Smoky Mountain Trappers Case limited edition set with three etched blades, two bone handles, one yellow, all mint except for rivet cracks on the yellow handled trapper. (lmi fl20-119) Minimum bid $125.00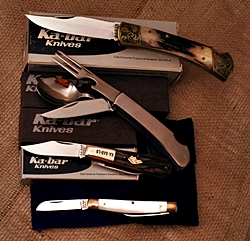 Lot 80 Four Kabar knives, KA-BAR stag handled folding hunter with fancy hand engraved bolsters (not from the factory but deep firearm style engraving, metal hobo, Ka-barlo dogshead with jigged bone, and pearl handled half congress 1 of 900 made in 1980, all MIB. (lmi fl20-120) Minimum bid $85.00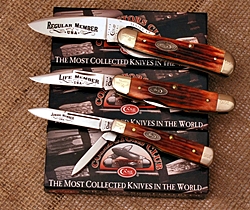 Lot 81 Three Case collectors club set of three with jigged bone handles, 6215 gunstock, 61953 1/2 Russlock, and 62046 1/2 For the Regular, Life and junior member. All MIB (lmi fl20-121) Minimum bid $100.00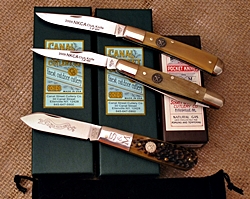 Lot 82 Three NKCA knives, 2004 Schatt & Morgan Youth knife, and 2009 NKCA Canal Street horn handled club knives, in a one blade trapper and a muskrat with horn handles. All MIB. (lmi fl20-122) Minimum bid $85.00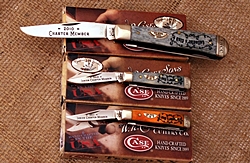 Lot 83 Shepherd Hills Case knives, 2010 large trapper Charter member knife with gray smooth bone and 2010 Junior Charter member in a tiny trapper, also 2011 in the tiny trapper pattern, all MIB (lmi fl20-123) Minimum bid $70.00

Lot 84 Three Case knives for the life, regular, and junior member, 2008, all with burnt oak bone handles, saddlehorn, canoe, and mini-muskrat, all mint in presentation boxes. (lmi fl20-124) Minimum bid $100.00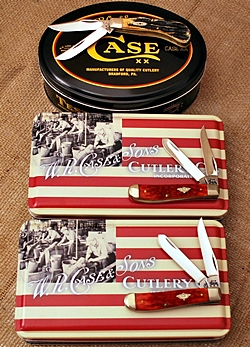 Lot 85 Three Case knives in tins, 6.5 bone small saddlehorn, and two red bone 6207 mini-trappers, all MIT (lmi fl20-125) Minimum bid $70.00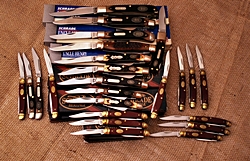 Lot 86 24 (Two Dozen!) Schrade knives, some with 100 th anniversary shields, USA made. 13 Heritage H104, 33OT, 30ts, 104OTS, 12OOTS, 807UH, 897UH, 5194OT, 8OTS, 896OT. (lmi fl20-126) Minimum bid $210.00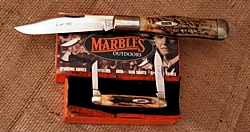 Lot 87 Marbles USA made stag handled pair, coke bottle folding hunter 1 of 350 and senator 1 of 125, both MIB. (lmi fl20-127) Minimum bid $70.00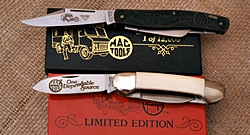 Lot 88 Pair of Mac Tool knives, Imperial stockman 1983, and IXL Wostenholm smooth bone three blade trapper, all MIB. (lmi fl20-128) Minimum bid $35.00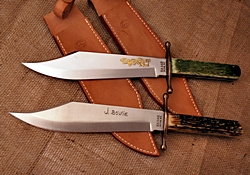 Lot 89 Pair of Ka-Bar matching Bowie knives, one genuine stag handles with "J. Bowie" eching, and gold overlay etched blade in smooth green bone, both with Ka-Bar marked leather sheaths mint. (lmi fl20-129) Minimum bid $80.00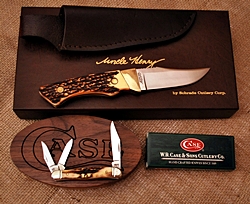 Lot 90 Pair of knives, Uncle Henry USA 144 hunter in gift box, and Case stag handled 5308 whittler with grooved bolsters in a Case marked laser cut wood box. Both mint. (lmi fl20-130) Minimum bid $50.00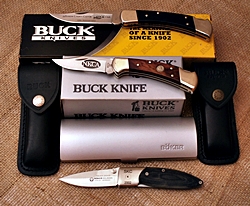 Lot 91 Three limited edition knives, Buck Jefferson County Custom Club 10th anniversary on a 110, NKCA Buck 112 with laser cut out blade, and SKC (Soy Knife Club) 2002 Boker locking liner with metal presentation box, all MIB. Sheaths with the Bucks. (lmi fl20-131) Minimum bid $80.00

Lot 92 NKCA Museum Founders set produced in 1980, Schrade USA clasp knife, Kissing Crane German made stag whittler, Case appaloosa bone 6250 sunfish, and Fight'n Rooster pearl handled stock knife made in Japan (only FR made in Japan). All in the original presentation case. (lmi fl20-132) Minimum bid $100.00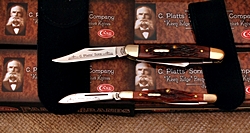 Lot 93 Two modern Case family name C.Platts serpentine 63087 and 62156ss tuxedo in walnut bone, both come with leather carrying pouches, color metal tin, and paper printed oversleeve, all mint. (lmi fl20-133) Minimum bid $50.00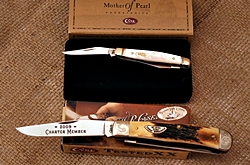 Lot 94 Pair of Case knives, stag handled Shepherd Hill stag handled 2009 Charter member knife with scrolled bolsters, and pearl tiny muskrat with grooved bolsters in satin lined presentation case. Both mint. (lmi fl20-134) Minimum bid $55.00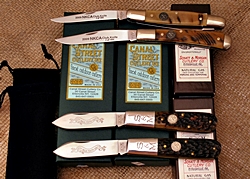 Lot 95 Pair of Schatt & Morgan jigged bone barlows 2004 Youth knives made for the NKCA, MIB (lmi fl20-220) Minimum bid $40.00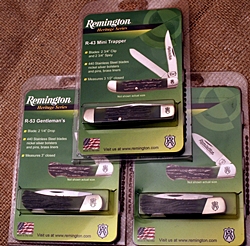 Lot 96 Three Remington Heritage series USA made knives, R43 Mini-trapper with jigged green bone handles, stainless blades and two R53 lockback gentleman's knife. All on clampacks. Mint. (lmi fl20-136) Minimum bid $15.00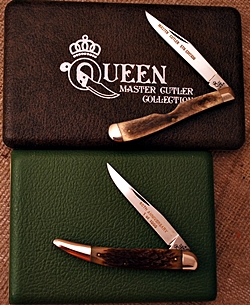 Lot 97 Pair of Queen knives, smooth bone easy open slim trapper etched, Master Cutler 5th edition, and a jigged bone 1982 60th anniversary Texas toothpick 1 of 1000, both presentation cased. (tlo fl20-137) Minimum bid $50.00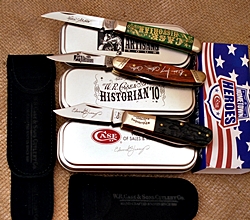 Lot 98 Three Case knives, Case one blade wharncliffe etched Case Historian Katie Shonotz 6107W, Artisan's two blade 72046 1/2, and Barlow with Ed Jessup etch, all in metal tins. (lmi fl20-138) Minimum bid $70.00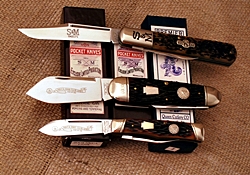 Lot 99 Three Schatt & Morgan knives, Premier 2 blade jigged bone Daddy Barlow, NKCA club knife jumbo sleeveboard whittler, 2006, and slant bolster jigged bone gunstock 2007. All MIB (lmi fl20-139) Minimum bid $100.00