J. Bruce Voyles, Auctioneers Knife Auction 120
Your relief from lack of knife shows to obtain some new and different knives for your collection is here!
Our stay-at-home, shelter-in-place still-get-knives-delivered auction. Just win the bid. We do the rest.
The next phase of opening up begins here!
Auction Ends Tuesday,June 2, 2020
Bidding begins NOW!

Bids begin closing at 10:30 Eastern time and close incrementally until all lots close.
THIS IS THE HIGH-RES CATALOG--

TO BID YOU MUST GO TO THE BIDDING PAGE BY CLICKING HERE
How to bid? Click here                                    Home

These are the terms that govern this auction and to which you agree by bidding.
You are legally bound by these terms. Please read before bidding. Click here to read them.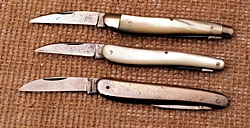 Lot 300 Trio of pearl handled wharncliffe knives, all exc. Swanworks Ohligs Germany cleaned to exc, ; Howard shadow vg, and Cattaraugus exc, all 2 7/8" to 3 1/4". ( rgot 120-336) Minimum bid $85.00


Lot 301 H. M Sanders Pearl wharncliffe, chip and crack at front handle corner "WMK" initials engraved on the shield. 3 1/2" Exc except as noted. ( rgot 120-337) Minimum bid $40.00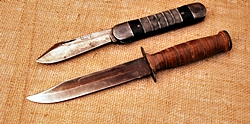 Lot 302 Pair of knives, Colonial Prov RI survival kit knife exc, 6" closed, locking liner, and unmarked civillian version of a Mark II--(this is NOT military issue), exc. ( bev 120-340) Minimum bid $25.00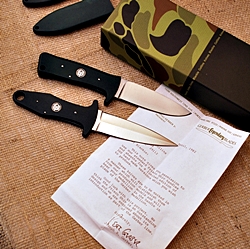 Lot 303 Rare pair of Blackie Collins versions of Frisco Shiv handmade versions in a limited edition of 300, includes 1982 permission letter from Pete Gerber. 2 knives with sheath, in one mint box. ( lmi 120-341) Minimum bid $40.00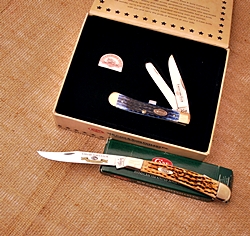 Lot 304 Pair of Case Collector club knives, blue bone trapper, and 6151 bone 25th anniversary knife, issued in 2006. Both mint in the box. (lmi 120-342) Minimum bid $50.00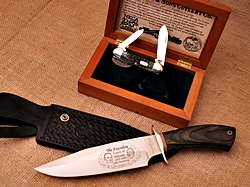 Lot 305 Pair of knives, NKCA 25th anniversary green bone Case canoe in the box and Smith & Wesson 144th anniversary etching, issued in 1996. Micarta handle, basketweave sheath. ( lmi 120-343) Minimum bid $40.00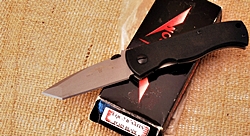 Lot 306 Emerson CQC7B Satin folder, MIB (ahmi 120-344) Minimum bid $50.00


Lot 307 Buck 110 USA with channel inlay handles on a finger groove model, truqoise and other material. NOT marked and does not look like Yellowhorse quality. (rel 120-345) Minimum bid $35.00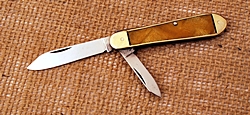 Lot 308 Unusual brass interframe 2 blade, not marked but does have pat. No, which was assigned to Imperial. Patent was applied ofr Oct 25, 1930, granted 4-28-31 to Henry Vossler. (rgot 120-346) Minimum bid $20.00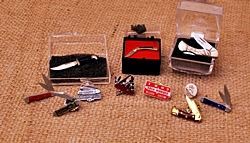 Lot 309 Group of knife related pin backs, Three buck, two peanut patterns with crosses, two Case, one Swiss army, Queen, 1992 ABCA Blade Show badge, and Parker abalone handled in box. ( lmi 120-347) Minimum bid $25.00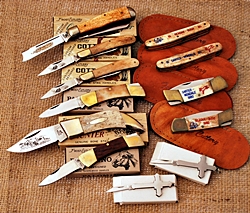 Lot 310 A dozen Frost knives (so old these were made in JAPAN!) Razor trapper, 2 cottontails all smoothbone, 2 Palamino--one bone one wood, two cross knives, pair of lockbacks and three blades with smooth bone, two say Regan-Bush 1980 and two say Carter-Mondale 1980. All the political ones come in leather sheaths. (lmi 120-348) Minimum bid $50.00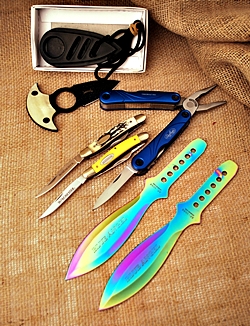 Lot 311 Group of six mesc knives. Push dagger piliers knife, two serpentine stock and two throwing knives. All imported. ( lmi 120-349) Minimum bid $10.00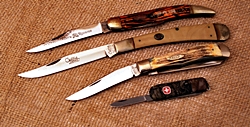 Lot 312 Group of four knives, Fight'n Rooster and Cripple Creek, with the handles rusting the blades, Swiss Army small knife, and a 6254 trapper that has been customized and rehandled in stag. Minty. ( rel 120-350) Minimum bid $10.00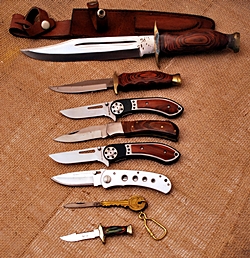 Lot 313 Group of eight knives, one a double fixed blade, two locking liner, lockback, folding key knife, couple of others, etc. ( rel 120-351) Minimum bid $75.00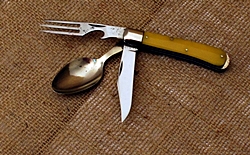 Lot 314 KA-BAR, three blade take apart hobo, yellow composition handles, cleaned to exc, except for a couple of deep pits on the back of the master blade. (rgot XVII-336) Minimum bid $25.00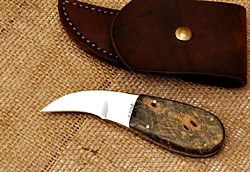 Lot 315 Marvin Poole spalted wood handled mini hook blade straight tang, leather sheath. 5" oal, 2 1/4" blade, handle is 1 3/8" wide. Mint. (tgg XVII-344) Minimum bid $30.00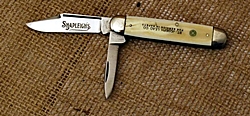 Lot 316 Shapleigh's 2 blade cattle knife with cracked ice handles, long pull, mint, advertising "St. Joseph Lead Co." "Samuel O'Neal" on the back, 3 1/2" closed, mint except for some small spiders on the front blade and a spot on the back. (pyo XVII-271) Minimum bid $20.00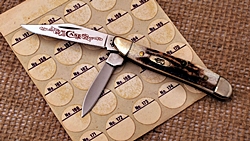 Lot 317 Case new version of a red etch 5220 peanut, mint. ( dso 120-352) Minimum bid $25.00

Lot 318 Mike Mercer masterpiece miniature, one of the miniature masters and this FIVE blade sowbelly proved it, three backsprings, jigged bone, hand rubbed finish, and is only slightly bigger than a quarter. Photographed on a quarter to give you some perspective. This knife is amazing. ( lmi 120-353) Minimum bid $70.00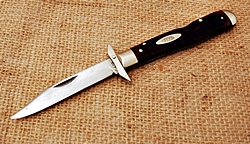 Lot 319 Case XX 1945-65 jigged bone 6111 1/2 folding guard lockback. One crack in the handle, otherwise exc. (rgot XVII-128) Minimum bid $40.00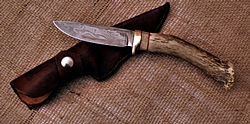 Lot 320 Douglas Ward, Franklin GA stag handled Damascus hunter, spacer of stag too at the brass guard, crown stag, with leather sheath mint. 8 1/4" oal, 3 3/4" blade. (tgg fl20-113) Minimum bid $25.00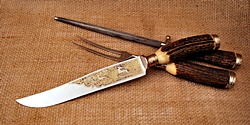 Lot 321 Robeson, Germany stag handled three blade carving set, gold etched carver, fork, and steel. All pieces marked. No box or sheath. 11 1/2" oal carver. (rgot fl20-264) Minimum bid $40.00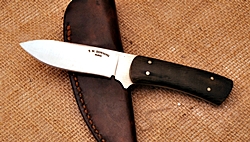 Lot 322 Tom Downing handmade hunter, micarta handles, straight tang, 7 1/2" oal, 3 3/8" blade, mint, leather sheath. (ahmi fl20-291) (ahmi fl20-291) Minimum bid $50.00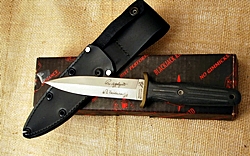 Lot 323 Blackjack, Effingham, Ill Applegate-Fairbairn, leather sheath, mint in original box except the handle is cracked on the back side from the lanyard to the edge, unused (rhh XVII-108) Minimum bid $25.00

Lot 324 Blackjack imported dagger etched "Everything Comes Back in Spades" with a stag handled, leather sheath in a color box, imported. ( rhh XVII-096) Minimum bid $10.00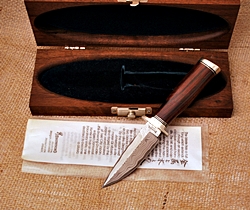 Lot 325 Browning Classic fighter design by Gil Hibben with Makoto Tabaka Damasus steel of nickel and high carbon stainless in 200 layers utilizing pine charcoal around a hard core center, full tang, cocobolo handles, 1 of 1000 made c. 1980's, 7 3/4" oal, 3 3/4" blade. This model has the full length of the top edge ground. Comes in a wood presentation case. ( cbi 120-359) Minimum bid $100.00