J. Bruce Voyles, Auctioneers Knife Auction 122
Auction Ends Tuesday, October 20, 2020
Bidding begins NOW!

Bids begin closing at 10:30 Eastern time and close incrementally until all lots close.
THIS IS THE HIGH-RES CATALOG--

TO BID YOU MUST GO TO THE BIDDING PAGE BY CLICKING HERE
How to bid? Click here                                    Home

These are the terms that govern this auction and to which you agree by bidding.
You are legally bound by these terms. Please read before bidding. Click here to read them.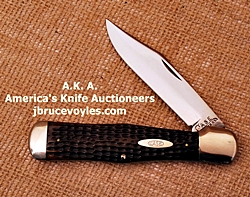 Lot 300 Case Tested XX long tail C marked C61050 folding hunter, cleaned to near mint. Green bone handles. (122-304-fpm) Minimum bid $200.00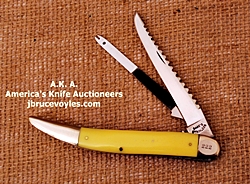 Lot 301 Case's Stainless fish knife, yellow composition handles, knife is near mint, but appears to be rehandled. Crack on back handle. (122-305-fpm) Minimum bid $40.00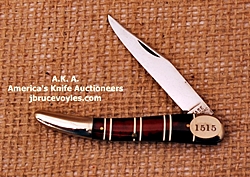 Lot 302 Case Bradford PA candy stripe R1096 Texas toothpick, exc (122-306-fpm) Minimum bid $75.00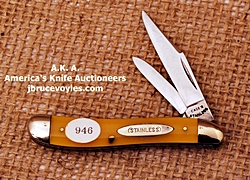 Lot 303 Rare variation of Case peanut, yellow composition handled peanut marked Case's Stainless with "Stainless" on the shield, vg, both blades marked. (122-307-fpm) Minimum bid $70.00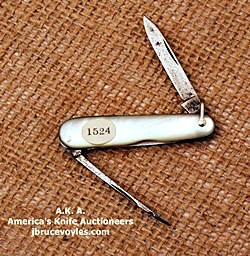 Lot 304 Case Bradford PA pearl handled lobster 2 blade with bail, very good. 2 1/4" closed. (122-308-fpm) Minimum bid $40.00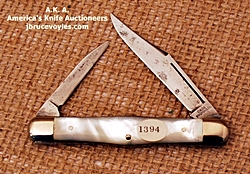 Lot 305 Case Bradford PA swell center 08267 pattern, long pull, blades are low very good. One imperfection in the pearl (not a crack). (122-309-fpm) Minimum bid $90.00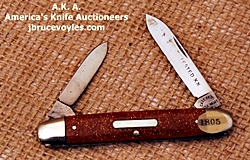 Lot 306 Case Bros, Little Valley NY metal flake pen knife, "Tested XX" stamped on the blade, bar shield, 3 1/4" exc. (122-310-fpm) Minimum bid $80.00

Lot 307 WITHDRAWN, due to uestionable provenance.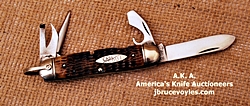 Lot 308 Case Tested XX jigged green bone with shield marked "Case Scout", cleaned to excellent, 6445 R pattern, punch blade marked too. (122-313-fpm) Minimum bid $110.00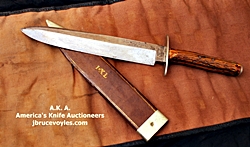 Lot 309 IXL Bowie Sheffield, Spear and saber ground, nickel silver guard and pommel, hidden tang, round stag handle, a little loose, IXL gold stamped leather veneer sheath, frog missing but nickel silver throat and tip still good. Very close to near mint for a Bowie this old. 12 3/4" oal, 8 1/2" blade. (122-343-cbi) Minimum bid $300.00


Lot 310 Harrison Brothers & Howsen Sheffield dagger, horn handles with three round pearl inserts covering the pins, exc. No sheath. (122-315-bev) Minimum bid $90.00


Lot 311 Cambridge Cutlery Sheffield, England, stag Cowboy Bowie, no sheath, well pitted very good. 11 3/4" oal, 7 1/4" blade. (122-337-bev) Minimum bid $50.00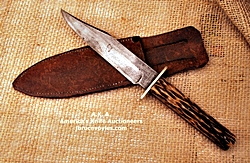 Lot 312 Challenge Cutlery Co. Sheffield (different from the American company), jigged bone handles, Cowboy Bowie with clip, leather sheath probably not original to the knife. 8 1/2" oal, 4 3/4" blade, tapered tang. (122-335-bev) Minimum bid $50.00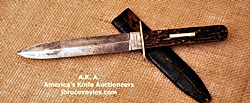 Lot 313 Standard Knife Company dagger with sheath, stag handles, bar shield, full blades, high exc. 10" oal, 5 3/4" blade, two small dings on the blade edge. (122-336-bev) Minimum bid $100.00


Lot 314 Pair of English tool knives bearing famous Bowie names, Wood handled swallow tail blade marked Petty's Celebrated Sheffield, and a carved white bone marked Wm. Greaves & Sons, both high vg/low exc. 8 1/2" and 8" oal. (122-333-bev) Minimum bid $40.00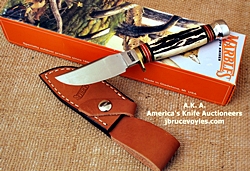 Lot 315 Marbles Trailcraft bone handle with spacers, leather sheath, modern made in Gladestone, MI. MIB (122-347-ahmi) Minimum bid $60.00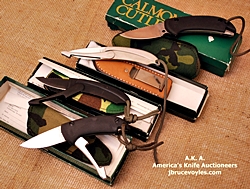 Lot 316 Calmont group of four knives, very short run based on a design by Cal Montgomery of South Carolina featuring a fixed blade and a fold blade cover that folds into the handle or out over the blade to used as a skinner tool, All with sheath, one leather, three camo cordura, two are all metal handles, two are thermoplastic hunter, all in the original book. (122-346-ahmi) Minimum bid $85.00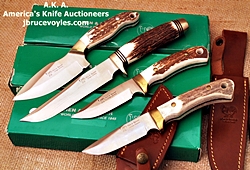 Lot 317 Hen & Rooster quartet of stag handled fixed blades, each with leather sheaths, each MIB. (2)4803 8 1/4", 4901 10 5/8" long, and 8". Marking on one designates made in Spain. Others are not so marked but they look almost the same. (122-351-ahmi) Minimum bid $110.00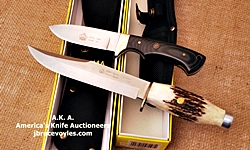 Lot 318 Puma pair of knives, one stag SGB Bowie Rolled Stag, one Coyote micarta, both claiming Germany blades, which indicates that assembly was likely China. Both MIB. (122-345-ahmi) Minimum bid $55.00

Lot 319 AWACS bead blasted blade, made in Effingham, Ill, leather sheath, MIB 10 1/4" oal, 6" blade. (122-349-ahmi) Minimum bid $50.00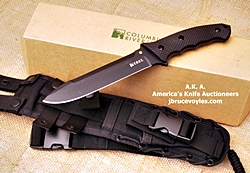 Lot 320 Columbia River Knife & Tool FTWS #2060 designed by Allen Elischewitz, tactical fighter, ballistic cloth sheath, MIB (122-352-ahmi) Minimum bid $55.00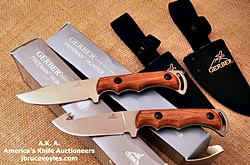 Lot 321 Pair of Gerber Freeman design hunters, wood handles, one is a clip point, and the other is a gut hook. Both MIB. #22-0864 & 0865. (122-355-ahmi) Minimum bid $35.00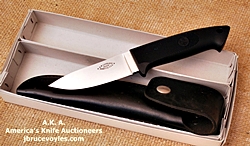 Lot 322 Beretta Loveless design drop point, zytel handle, black leather sheath, MIB (122-348-ahmi) Minimum bid $45.00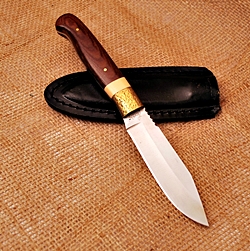 Lot 323 Holly Handmade straight tang, 8" oal, 4" blade, 03 on the back of the tang, stippled brass guard, canvas micarta with a linen micarta spacer mint with sheath. (122-342-mbc) Minimum bid $30.00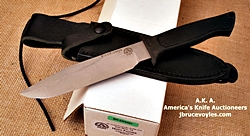 Lot 324 EK Commando Night Fighter, Xpedition knives, kraton handles, bead blasted blade, Bark River Mi, some spotting but still in original box. 11 1/2" oal, 6 1/2" blade. (122-353-ahmi) Minimum bid $55.00


Lot 325 Moki pearl handled lockback folder, interframe with five firery mother of pearl inset into both sides, 3 7/8" closed, 7" open. Mint. (122-356-cbi) Minimum bid $65.00

Lot 326 Case 10 Dot 1970 5347 shp sp stainless, polished, nice stag handles. Smaller blades stamped "SS" (120-150-rgot) Minimum bid $100.00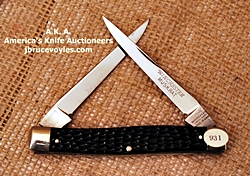 Lot 327 Winchester etched Muskrat, pre-WWII, rough black handles, some shrinkage, otherwise mint (122-361-fpm) Minimum bid $175.00


Lot 328 W. R. Case & Sons, Bradford, PA 6151 low exc/vg blade, propeller shield, bone handles. (122-360-fpm) Minimum bid $200.00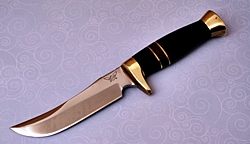 Lot 329 John Nelson Cooper Mohawk Brave, trailing point, 10" oal, 5 1/4" blade, no sheath, cleaned to near mint. (122-212-cbi) Minimum bid $200.00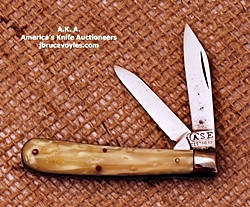 Lot 330 Case Tested XX Tadpole 9229 1/2, blade is short and pitted, vg or worse. (121-105-fmp) Minimum bid $10.00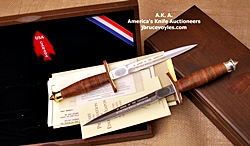 Lot 331 Case commemorative V-42 combat daggers produced by the American Historical Foundations, set of 2 knives, one honoring the Americans of the First Special Service Force and the Canadians of the First Special Service Force, one blade is mirror polished, the other is black, both come with deluxe wood presentation cases is velvet liners, top of the line commemoratives. (121-248-cbi) Minimum bid $200.00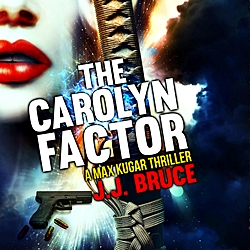 Lot 332 "The Carolyn Factor" Novel centered around a knife dealing hero, written by J. Bruce Voyles, writing as "JJ Bruce". It is available as an e-book on Amazon, but autographed softcover edition is available exclusively through us. This is NOT an auction item. When you click on the bid box, it will process at the stated price. You can check out a review of this book at Kirkus Review. Retail is $16.99. As a registered bidder your price is $14.99. (Caroyn-jbv) Minimum bid $14.99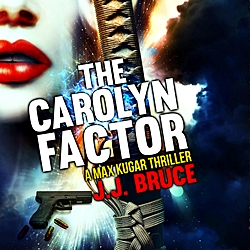 Lot 333 Same as above but hardcover with color dustjacket, and also autographed. (If you want it specifically dedicated to someone please specify when you are contacted for the final amount of your winning bids plus shipping. Retail is $25.00. As a registered bidder with us, your price is only $19.99 (Carolyn-jbv) Minimum bid $19.99