J. Bruce Voyles, Auctioneers Knife Auction 125
Auction end Feb. Tuesday, Feb. 23, 2021

Bids begin closing at 10:30 Eastern time and close incrementally until all lots close.
THIS IS THE HIGH-RES CATALOG--YOU CANNOT BID FROM THIS SITE.
Click here to go to the bidding platform

These are the terms that govern this auction and to which you agree by bidding.
You are legally bound by these terms. Please read before bidding. Click here to read them.
LOT 1 M. H. Cole rarest of the rare 9 point knuckle guard knife, 12 3/4" oal, 8" blade. Includes a photo of Cole and Ballard at a show displaying knives made by him with a Robebuck Works sign. (125-373- cbi) Minimum bid $2500.00

LOT 2 Richtig fighter with double guard, stacked handle, Alfred Cornish sheath, H. E. B. stamped into the bolsters, F.J.R. Clarkson, Neb is on the flat of the pommel. 11" oal, 6" blade, near mint (125-237- cbi) Minimum bid $2,700.00

LOT 3 Richtig fighter, stacked handled, sheath looks correct to the era, but it is not a Cornish sheath, stamped on the flat of the pommel. Sharpened false edge is 5" from the point, 12 1/2" oal, 7 1/4" blade, exc (125-241- cbi) Minimum bid $2,700.00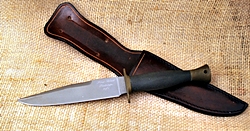 LOT 4 Jimmy Lile Rambo knife, bead blasted finish, marked, "First Blood prototype, 2 of 2", 10 3/4" oal, 5 3/4" blade, bead blasting is scratched on the back side from being pushed in and out of the sheath. Sheath is not a typical Lile sheath and not certain it is original to the knife but it fits. (125-121- cbi) Minimum bid $500.00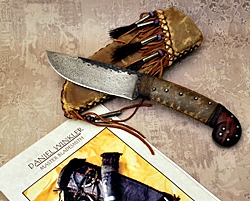 LOT 5 Daniel Winkler handmade in his unique style, sheath by Karen Shook Winkler, braintanned leather handle, 9" oal, 4 1/2" blade, distressed finish blade, the entire package a work of art. Daniel's handmade work is extremely rare as he is concentrating on his Winker II tactical and combat knives he produces for many of the world's top special forces military teams. Karen Shook Winkler's sheaths, also works of art in themselves, are no longer produced as Karen has difficulties with making sheaths due to arthritis in her handles. First Winkler handmade we have been able to offer in ages. Not sure when or ever we will have this opportunity again. Hidden tang, comes with an original Winkler handmade knives catalog. (125-158- tjms) Minimum bid $450.00

LOT 6 Jimmy Lile Horn handled dagger,, colorful, engraved, "Handmade by James B. Lile", unusual in that handle and blade are flat on one side, not original sheath, one crack from the shield to the handle, 7 5/8" oal, 3 7/8" blade, knife is mint. (125-164- tjms) Minimum bid $300.00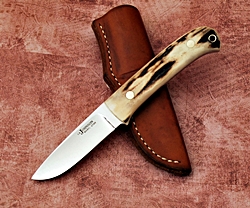 LOT 7 Steve Johnson stag handled drop point hunter, straight tang, drilled for lanyard, 7 1/4" oal, 3" blade, mint. With sheath. (125-322- tjms) Minimum bid $250.00

LOT 8 Tom Leschorn engraved Randall, ivory micarta handle, engraving looks to have some corrosion in the bottom, which is strange because it should be nickel silver. See photo. Aluminum pommel, pouch leather. Model 26" knife, 8 1/2" oal, 4 1/4" blade, with Randall sheath, includes a Leschorn business card. Leschorn engraving on a Randall are some of the most desired Randalls around. (125-263- cbi) Minimum bid $450.00

LOT 9 Judson Brennan & Son fluted handled Med dirk with matching sheath with engraving on both as enhancing accents, engraved "No 10", 13" oal, 8" blade, exceptional artistry. (125-001- cbi) Minimum bid $500.00

LOT 10 Randall No. 1, WWII era, Moore sheath, white stone, metal flap for lanyard ring on pommel. 7" blade, exc. One of the most desirable and hard to find Randalls. (125-219- cbi) Minimum bid $650.00

LOT 11 Joe Kious dagger, burl wood handled and matching wood sheath, with Kious artistry and clean lines, 10" oal, 6" blade. Mint. (125-224- cbi) Minimum bid $400.00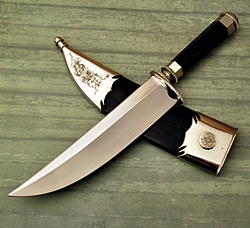 LOT 12 Campbell Searles style, very well done, engraved ferrule and pommel, as well as sheath tip, 11 3/4" oal, 7 1/4" blade, filed ferrule, pommel, and guard, mint. (125-229- cbi) Minimum bid $350.00

LOT 13 John Nelson Cooper Iron Mistress Jim Bowie replica in wood box, measured from the original knife used in the Alan Ladd movie, "The Iron Mistress". Comes with photos of Jim Nagel with several of the people involved in the design of the knife for the movie. (125-336- cbi) Minimum bid $400.00

LOT 14 Withdrawn from the auction. The knife has some issues we have only recently discovered. Sorry for the inconvience.
LOT 15 Massive John Nelson Cooper Bowie, one year mark (1964), 17 1/2" oal, 11" blade, mint except for a few storage specks. (125-345- cbi) Minimum bid $400.00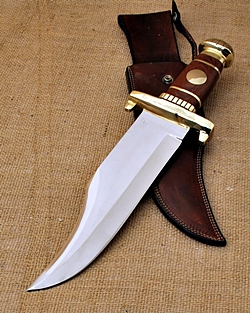 LOT 16 John Nelson Cooper Iron Mistress model, 16 1/2" oal, 10" blade, etched "No. 288-78 #2" Appears to have been lightly cleaned. (125-370- cbi) Minimum bid $400.00

LOT 17 R. H. Ruana marked stag handled Bowie with brass back, Massive. 16" oal, 10" blade with sheath. (125-376- cbi) Minimum bid $500.00

LOT 18 Randall No. 1-7, fingergrooved micarta handle, stainless, sawtooth false edge, rough back sheath with a gray stone, #6023 engraved on the back, cleaned to near mint. (125-235- cbi) Minimum bid $500.00

LOT 19 John Nelson Cooper style made by his apprentice Jody Sampson and marked "Sampson" under the Cooper eagle. stacked micarta Bowie, brass fittings. Cooper marked sheath. 12 3/4" oal, 7 3/4" blade, near mint. (125-315- cbi) Minimum bid $225.00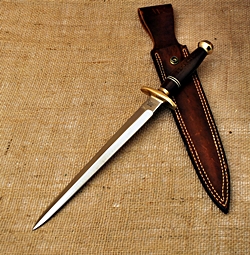 LOT 20 John Nelson Cooper extremely long dagger, stacked micarta handle, brass fittings, with sheath. 14" oal, 9 1/4" blade, cleaned to almost mint. Holding strap for the sheath is not there. (125-316- cbi) Minimum bid $200.00

LOT 21 John Nelson Cooper Bianchi hunter, marked "Bianchi by Cooper", stacked micarta, brass fittings, leather Bianchi marked sheath, trailing point, one of the most famous and most desired of Copper's work. 10 1/2" oal, 5 3/4" blade, low exc. (125-317- cbi) Minimum bid $200.00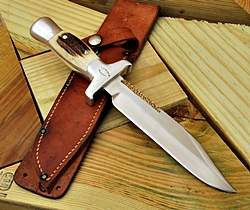 LOT 22 Ruana Bowie with brass back, brass back, "M" mark designating made during Rudy's lifetime, 11 1/2" oal, 6 3/4" blade. Mint. (125-207- cbi) Minimum bid $100.00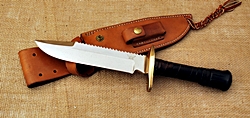 LOT 23 John Nelson Cooper Attack, leather wrapped handle, crutch tip pommel, saw tooth back, drilled guard, 15" oal, 8 1/2" blade, stone in the sheath, full blade but with tarnish spots. (125-371- cbi) Minimum bid $200.00

LOT 24 Randall IXL Bowie, IXL blade, with Randall brass lugged guard, stacked leather washer handle and brass pommel. Sheath is a rough back Johnson stamped "IXL-10", combo stone, 16 1/2" oal, 10" blalde. Near mint. (125-307- cbi) Minimum bid $350.00

LOT 25 Richard Essegian engraved hunter, finger groove stag handles, engraved blade on both sides and the pommel, plus a well done bear carving in relief on the stag handles, mint, no sheath. 11" oal, 5 3/4" blade. (125-352- cbi) Minimum bid $200.00

LOT 26 Randall No. 1 fighter with a riveted rough back sheath, white stone, appears to be someone's social security number scratched on the tang, brass double guard, stacked leather washer handle. 6" blade, near mint. (125-244- cbi) Minimum bid $400.00

LOT 27 Randall 5-6 stacked leather washer handled, Heiser sheath with a combo stone, painted brown buttons. Exc. (125-246- cbi) Minimum bid $400.00

LOT 28 Randall Buxton Fighter micarta handled double guard, top of tang is visible on top side of the handle, number BF#006 number. Smooth back sheath, 12" oal, 6 5/8" blade. It has been said that Buxton reserved the firsrt 10 serial numbers for his family. (125-248- cbi) Minimum bid $350.00

LOT 29 Randall No. 1-8, Hesier brown button sheath on which the stone pocket has been removed. Exc. (125-250- cbi) Minimum bid $450.00

LOT 30 Anslemo Cooper style Bowie, in the style of the knifemaker under who he apprenticed, John Nelson Cooper. Stacked micarta. Stamped on the brass guard. Bill French sheath, 13 3/4" oal, 8 1/2" blade, near mint. (125-253- cbi) Minimum bid $200.00

LOT 31 Randall 1-7, stacked leather washer handled, brown button Heiser sheath with a combo stone. Exc plus. (125-255- cbi) Minimum bid $550.00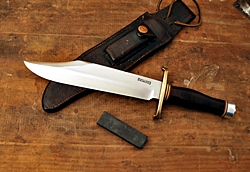 LOT 32 Randall Bowie, lugged brass guard, combo stone, brown button sheath, mint blade but some vertigris spots on the brass guard that should clean out, 13 1/2" oal, 8 1/2" blade. (125-257- cbi) Minimum bid $500.00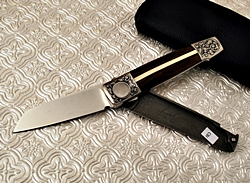 LOT 33 Barry Wood butterfly folder with engraved bolsters, wood handles flanking an imitation ivory strip, wharncliffe shaped blade. Mint with a zip up pouch. Marked "M ATS-34, #049320" (125-261- cbi) Minimum bid $250.00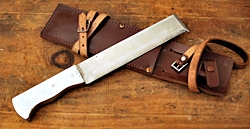 LOT 34 Australian made aluminum handled machete. Unmarked but there are very similar marked examples as being made by "East Brothers, Sydney". Leather sheath is mint, not certain it is original to the knife. 12 1/2" oal, 7 3/4" blade, near mint. (125-260- cbi) Minimum bid $90.00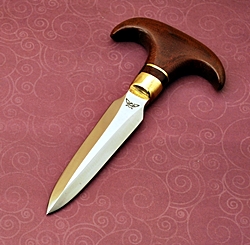 LOT 35 John Nelson Cooper micarta handled push dagger, mint. No sheath. 6 1/2" oal, 4" blade, handle is 3 1/2" wide. (125-319- cbi) Minimum bid $125.00

LOT 36 Randall No. 1-7 with a saw tooth back of the blade, fingergroove stag handles, rough back Johnson sheath with a combo stone. Engraved on the back of the blade, "J. S. Vincent", rough back sheath, exc. (125-267- cbi) Minimum bid $600.00

LOT 37 Randall No. 1 -8, stacked leather washer handle, brown button Heiser sheath, with combo stone, engraved "Libre Agila" High exc. Full blade. Back is engraved, "Bob Schroder". (125-269- cbi) Minimum bid $650.00

LOT 38 Randall 5-6 stainless stacked leather washer handle, white stone, sawtooth top edge, with "Ed Breslin" engraved on the back of the blade. Rough back sheath, near mint. (125-272- cbi) Minimum bid $350.00

LOT 39 Randall No. 1-8 with a brown button rough back sheath, combo stone, lugged brass guard and crown grooved pommel. Stacked leather washer handle. Near mint. Engraved on the back with the title of Col. Rex Applegate's famous booklet, "Kill or Get Killed". Near mint. (125-274- cbi) Minimum bid $400.00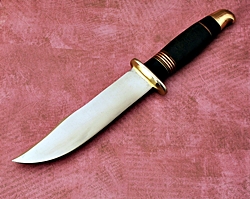 LOT 40 Unmarked Cooper style, stacked micarta handles with copper rings, nickel silver guard, and copper pommel, blade is thinner than most typical Coopers. 11 1/4" oal, 6" blade exc. (125-321- cbi) Minimum bid $90.00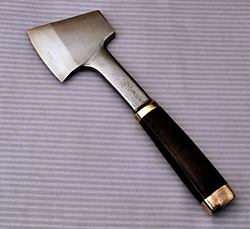 LOT 41 Unmarked John Nelson Cooper ax, stacked micarta handle with brass fittings, exc. Some pitting and has been cleaned, 11" oal, 3" cutting edge. (125-280- cbi) Minimum bid $110.00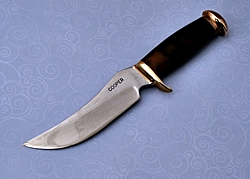 LOT 42 John Nelson Cooper (one year, 1964 mark) Trailing point hunter, brass guard an pommel, trailing point hunter, no sheath. 9 3/4" oal, 5 1/2" blade, handle is a little loose and can see space between the micarta layers when held up to the light. Blade is exc. (125-282- cbi) Minimum bid $150.00

LOT 43 Randall 1-8, brown button Heiser sheath, "Conrad W. Contino" engraved on the back of the blade. Finger groove stag handle, and scalloped false edge. Exc. Hidden tang. White stone. Near mint. (125-301- cbi) Minimum bid $450.00

LOT 44 John Nelson Cooper smaller Devil's hatpin push dagger, grass guard, T shaped micarta handle with brown micarta and brass spacer. Near mint, no sheath. 6 1/4" oal, 3 3/4" blade, near mint, (125-320- cbi) Minimum bid $150.00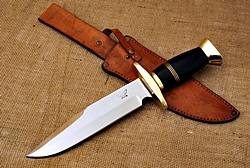 LOT 45 John Nelson Cooper Bowie, stacked micarta handles, brass guard and pommel, Eagle mark, leather sheath, 14" oal, 8 1/2" blade, mint, although the sheath is banged up a little. (125-309- cbi) Minimum bid $250.00

LOT 46 Randall Miniature Model 14, mint, still in the original butcher paper and the instruction guide tha came with it. (125-310- cbi) Minimum bid $250.00

LOT 47 Knife is an unmarked bone handled dagger with fancy ferrule and pommel, but not original to the knife is this brass cut out sheath that looks to be a Warther made sheath, but no marking or documentation. 13 3/4" oal, 8 1/2" blade, exc. (125-311- cbi) Minimum bid $100.00

LOT 48 Very well made tanto with oriental markings etched on the blade, nice temper lines, Not sure of the maker, possible identified by the heart cut out on the ferrule. Lacquered sheath and handle. Mint. I do understand the thought of putting oriental marks on an oriental blade, but I wish knifemakers could consider the disservice they do to collectors by forcing us all to guess at some obscure marking not commonly known. Same goes for those who use initials, or stamps with a symbol without their name. One should be proud enough of their work to clearly put their name on it. (End of rant). The value of this knife will suffer despite its quality because we cannot clearly identify the maker. (125-313- cbi) Minimum bid $100.00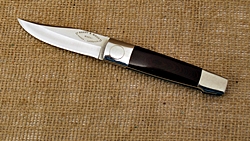 LOT 49 Barry Wood butterfly folder, maroon micarta handles, 4 1/4" closed, has been sharpened so near mint. (125-028- cbi) Minimum bid $50.00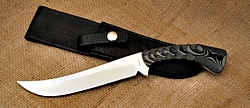 LOT 50 Mike Yerco, Garfield, OH handmade Turkish clip long fighter, white and gray finger grooved G10 handles, black leather sheath, drilled for lanyard. Mint Straight tang. Sheath made by maker. #4250A, 11 3/4" oal, 7" blade. (125-117- rel) Minimum bid $75.00

LOT 51 Riddle, Andes, NJ long engraved dirk with fancy Spanish notch, horn handles, spectacular engraving of a cougar on each side, gold framed engraved, plus engraved pommel and gold inlay around the lanyard hole. Tapered tang, 13 1/2" oal, 8 1/4" blade, scalloped file work, some spotting on the upper side of the bolster that should clean, otherwise mint. No sheath. (125-124- cbi) Minimum bid $125.00

LOT 52 Ralph Turnbull dark wood handled Bowie, half-horse, half-alligator coffin pommel, leather sheath, straight nickel silver guard, 14" oal, 9 1/4 blade, cleaned to near mint. (Would say mint but cannot say that even it is has been lightly cleaned). (125-127- cbi) Minimum bid $160.00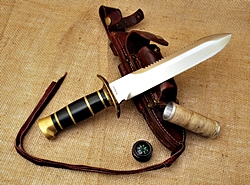 LOT 53 Jarvis combat knife, stacked brass and leather washer handle, spear point with a saw tooth back, the guard is drilled overall for use in lashing, very heavy duty sheath, and in the sheath there is a waterproof cylinder, compass in the cap, wrapped with cord on the outside, and fishhooks and other smaller survival bits inside. Heavy duty built, 13 1/2" oal, 8 1/2" blade, spotted a bit but otherwise near mint plus. (125-128- cbi) Minimum bid $100.00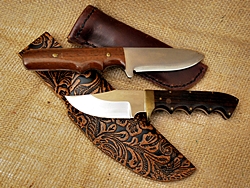 LOT 54 Pair of wood handled hunters. Both with finger grooved handles, pouch sheaths, one is rather elaborate, very early Mike Franklin on the bottom marked #29, 2-75", top knife is unmarked. One is 8" oal, the other 7 5/8", lightly specked. (125-149- ahmi) Minimum bid $50.00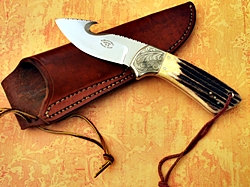 LOT 55 G. Marshall, Mason Texas stag handled engraved guthook hunter, dovetail bolsters with red liners. Marshall was well known for donating his knives to various fund raiser events at which his knives brought fantastic sums. Pouch leather sheath, drilled for lanyard, near mint, has been sharpened and used, fileworked blade and tang, dovetail bolsters, 8 1/4" oal, 3 1/2" blade. (125-168- tjms) Minimum bid $150.00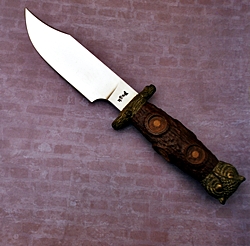 LOT 56 Jim Pugh hunter with cast pommel and guard of an owl, with a carved handle to match. Jim was a charter member of the Knifemakers Guild and started making knives while on a ship during WWII. No sheath. Mint. 11 1/2" oal, 6" blade. (125-205- cbi) Minimum bid $200.00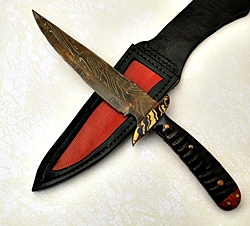 LOT 57 Twentynine knives is the reverse etching on this Damascus horn impala handled hunter, mokume guard, windowpane sheath, fileworked tang, etching also reads, "Ezra 1:9, Rybar" on the front, and on the back etching reads, "And Cyrus gave to Shesbazzar gold, silver and", 12" oal, 7" blade. (125-208- cbi) Minimum bid $150.00

LOT 58 Randall Model 1-8 Springfield, Mass, stacked leather washer handle, leather sheath with a white stone, no marking on the sheath. Minty. (125-209- cbi) Minimum bid $350.00

LOT 59 Ebony handled dagger without a clear makers mark but with elaborate engraving on the guard on both sides and a sterling silver escutcheon by L. B. Sanchez. No sheath, and rivet cracks on both sides of the ebony handled knife. Unused. 10 1/4" oal, 5 1/2" blade. (125-211- cbi) Minimum bid $90.00

LOT 60 WWII era handmade knife by A. B. Smith, dated 1939 on the guard, hidden tang with stacked micarta and grooving cut into the stacked wood or leather handle. With Sheath, mint considering the age, except the stacked micarta rings are not tight. (Can be tightened from the pommel with a spanner wrench--we do not have a spanner wrench). 11 1/2" oal, 7" blade. (125-215- cbi) Minimum bid $150.00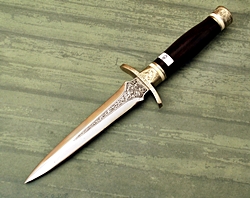 LOT 61 Lance Kelly engraved dagger, ironwood handle with stacked white spacer, engraved guard and pommel as well as fully engraved blade. No sheath, mint. 8 1/2" oal, 4 3/4" blade. (125-226- cbi) Minimum bid $110.00

LOT 62 Don Lozier art dagger with Damascus blade, spalted multicolor wood handle, amber spacer, and elaborately engraved guard and pommel with gold borders by Julie Warenski, 14" oal, 9" blade, With fancy leather sheath. Mint. (125-227- cbi) Minimum bid $200.00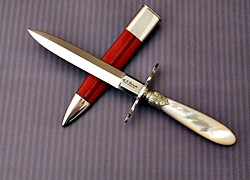 LOT 63 A. H. Daniel, Town Creek Al beautiful rendition of a pearl handled English garter dirk, scalloped guard, fancy ferrule, leather sheath with the flat throat. Extremely nice. Mint, 9 1/2" oal, 5 1/2" blade. (125-230- cbi) Minimum bid $200.00

LOT 64 A. H. Daniel, Town Creek Al Broomhead and Thomas style Massive Bowie, pearl handled, carved guard, sculpted handle, crown pommel with some filing, Spanish notch in the blade, scalloped edges on the tip and throat of the matching leather sheath. Exceptional. Mint. Etched #3 of 10. 16 1/2" oal, 11" blade. Original receipt from the maker included showing originally sold for $1300. (125-231- cbi) Minimum bid $300.00

LOT 65 Randall No. 2 dagger, stacked leather washer and sculpted Wood handle, Unusual sheath that does not look like original to the knife. (125-233- cbi) Minimum bid $300.00


LOT 66 Quesenberry ironwood handled hunter, hidden tang, hand rubbed finish, no sheath. Mint except for a cuple of specks, Journeyman smith mark, 8 3/4" oal, 4" blade. (125-323- dnk) Minimum bid $350.00

LOT 67 Vintage Harry Morseth stag handled hunter, stacked in 3 pieces with spacers, patented Morseth sheath, exc. 10 3/4" oal, 6" blade. (125-324- jsc) Minimum bid $200.00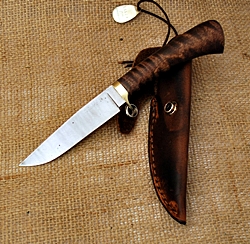 LOT 68 Rodenbaugh, Mastersmith mark wood handled Damascus hunter with pouch leather sheath, hidden tang. 8 1/2" oal, 4" blade, spotted but unused, tang with it reads, BAKCA 25th anniversary. (125-344- jsc) Minimum bid $80.00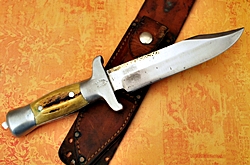 LOT 69 R. H. Ruana vintage brass back Bowie, "M" mark indicates made during Rudy's lifetime. Leather sheath with stone pouch. 11" oal, 6" blade, exc. (125-384- tjms) Minimum bid $200.00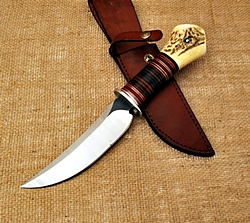 LOT 70 John Greco hunter, double ground, stacked leather washer handle with a stag pommel, leather sheath. 11" oal, 5 3/4" balde. (125-349- tjms) Minimum bid $50.00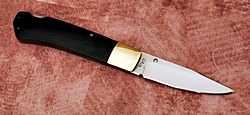 LOT 71 White marked handmade micarta handled folder, brass bolster, lockback, with thumbstud. Mint. Dovetailed bolsters, 4 1/8" closed, 7 1/4" open. (125-355- cbi) Minimum bid $90.00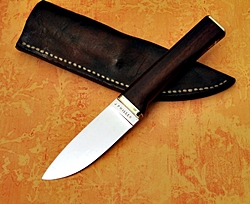 LOT 72 J. P. Miller hidden tang hunter, brass guard and pommel, wood handles, pouch leather sheath. Inlaid cross toward the pommel. Lightly used, near mint. 7 1/2" oal, 3 3/8" blade. (125-356- cbi) Minimum bid $50.00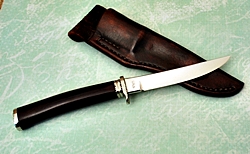 LOT 73 White marked wood handled hunter, fileworked guard, ferrule, and pommel. Hidden tang, pouch leather sheath. #131, Mint, 8 1/4" oal, 4" blade. (125-357- cbi) Minimum bid $65.00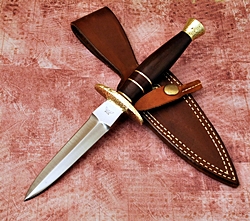 LOT 74 Cooper dagger, etched logo, stippled brass guard and pommel, stacked micarta handle, leather sheath. Mint. 9 3/4" oal, 4 5/8" blade. (125-358- cbi) Minimum bid $150.00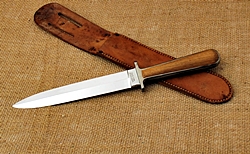 LOT 75 Langbein, New York WWII dagger with wood insert handle, marked the same on both tangs, leather sheath. Retailer that reportedly closed in the 40's. 12 1/4" oal, 7 1/4" blade, with sheath, near mint. (125-381- cbi) Minimum bid $150.00

LOT 76 Ruffin Johnson, Houston, TX, El Lobo Solo, with mark on front for "Wiggins Empire Corporation", 9 1/4" oal, 4 5/8" blade, Fancy handmade skinner, fingergrooved guard with stacks of ebony, maple and various woods and imcarta. Pouch leather sheath. Mint. (125-382- tjms) Minimum bid $90.00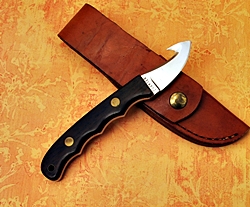 LOT 77 Cormier wood handled guthook, finger groove handles, leather long flap sheath. Spotted so near mint. Cleaned. 7" oal, 2 1/4" blade, straight tang. (125-383- tjms) Minimum bid $30.00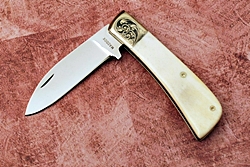 LOT 78 Mickey Maddox, Ringgold GA folder, white bone handles, engraved bolster and pin heads. Mint. Sliplock, 3 3/4" closed, 7" open, dovetailed bolsters. (125-394- tjms) Minimum bid $65.00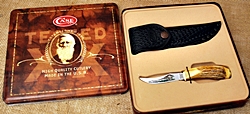 LOT 79 Case stag handled small game knife with black basketweave sheath, presented in a color tin, Mint. (125-002- dnk) Minimum bid $45.00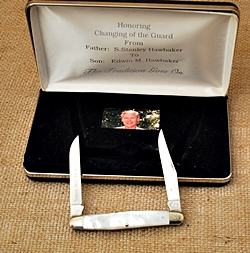 LOT 80 Pearl handled Queen Hawbakers Muskrat honoring the changing of the guard from S. Stanley Hawbaker to Edwin Hawbaker, mint in presentation box. 1 of 500. (125-003- dnk) Minimum bid $60.00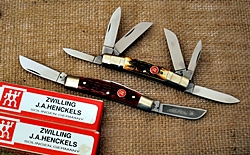 LOT 81 Pair of Henckels Solingen, Germany congress knives, one is a four-blade handled in jigged red bone and a six blade handled in genuine stag with step down bolsters, both MIB. (125-004- cdgi) Minimum bid $50.00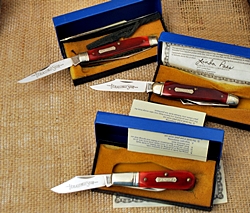 LOT 82 Three Schrade USA made Heritage series, smooth red bone handles, all extremely well made and the brainchild of Schrade customizer Herman Williams, Muskrat, Carpenter's whittler, and two blade barlow. Each is MIB, but the foam around the boxes is starting to crumble. Early 80's knives. (125-005- cdgi) Minimum bid $70.00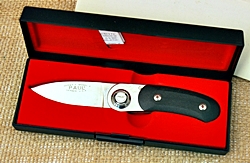 LOT 83 Gerber Series II Paul knife with composition handles, in plastic presentation box. Mint. (125-006- cdgi) Minimum bid $80.00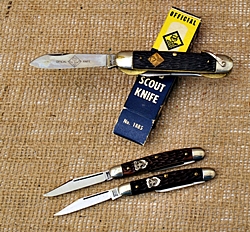 LOT 84 Three Official Boy Scout Items. Camillus Cub Scout in the original box, some of the polish is going but mint, plus two Schrade-Walden marked Delrin handled two blade with Boy Scout shields, mint. (125-007- dcgi) Minimum bid $30.00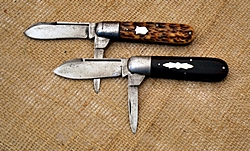 LOT 85 Pair of vintage jacks known in the old catalogs as the Bulldog pattern knives (Extremely heavy master blade with very thick backspring, plus small backspring for the smaller blade. Wood handled is long pull Camillus older style 3 line mark with propeller shield, and Walden Knife Co. long pull with jigged bone handles and crest shield with a rivet crack at the center rivet. Both with iron bolsters. Both are very good. (125-008- bev) Minimum bid $50.00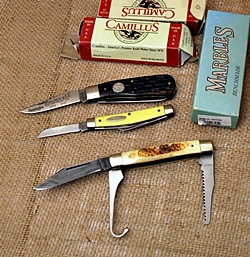 LOT 86 Three modern knives. Camillus yellow handled 4 blade congress, Camillus baby bullet jigged bone 1997 Salute to the NKCA, USA made, and Marbles bone handled stockman with Damascus master blade, bird hook, and saw blade, MIB Imported from Japan during the brief time that Jim Parker was making knives marked Marbles (before a lawsuit stopped him). (125-009- cdgi) Minimum bid $40.00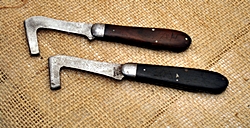 LOT 87 Pair of Wood handled timber scribes, very good, Camillus and Ulster Knife Co low exc. (125-010- bev) Minimum bid $30.00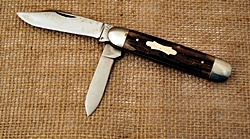 LOT 88 Holley deep worm groove bone handled big cigar pattern, 2 blades, bowtie shield, blade has a rough brushed finish, leaning toward being a parts knife assembled from leftover parts. Near mint. (125-011- fpm) Minimum bid $50.00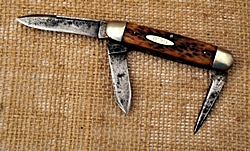 LOT 89 Case Bradford PA three blade cattle knife with punch, blades are low very good. Jigged bone handles. 6345P pattern number is stamped on the puch blade, one rivet crack at the center rivet. (125-012- fpm) Minimum bid $50.00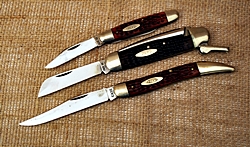 LOT 90 Three Case knives, XX 61093 Texas Toothpick with reddish bone handles, 62055 USA bone exc, and 6246 Marlin Spike with delrin handles, 1980's mint except for a rivet crack in the delry. (125-013- fpm) Minimum bid $50.00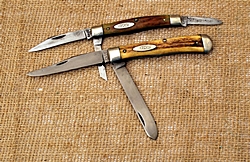 LOT 91 Pair of Case XX stag handled knives, 5254 trapper, appears to be Tested frame, low exc with one rivet crack and the stag is very thin on the back, so much that liner is visible on the edges, and 5332 vg. (125-014- fpm) Minimum bid $40.00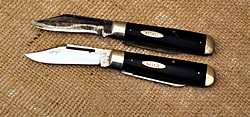 LOT 92 Pair of Case 2231 1/2 LP knives, slick black handles, one Tested, good handles, and Case XX 2231 1/2 LP near mint. (125-015- fpm) Minimum bid $40.00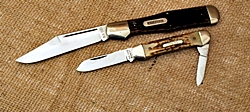 LOT 93 Pair of Ka-Bar club knives, Extended bolster jigged bone folding hunter, 1992, long pull and stag handled 2 blade canoe, both mint. (125-016- fpm) Minimum bid $45.00


LOT 94 Russell Navy Knife, wood handles, etched blade, very good condition, iron bolsters. 4 1/8" closed. (125-017- bev) Minimum bid $40.00


LOT 95 LF&C rough black humpback lockback, spear point, grooved bolster, bar shield, near mint. (125-018- bev) Minimum bid $35.00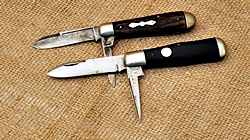 LOT 96 Pair of vintage knives, wood handled coke bottle shaped jack with round shield and punch by Cattaraugus vg with a long crack on the back handle, and a Bayonne Knife World 2 blade jack with propeller shield, long pull, vg. (125-019- bev) Minimum bid $40.00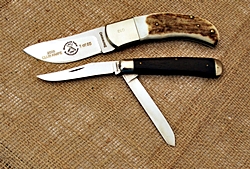 LOT 97 Pair of Browning knives, wood handled USA made trapper, and 2005 Shenandoah knife club stag handled folder made in Italy. Both mint. (125-020- bev) Minimum bid $30.00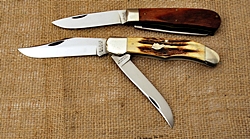 LOT 98 Pair of knives, Stag handled modern era Dogshead KA-BAR folding hunter 1977 and Arum staminawood jumbo trapper (i.e. like an 1123 bullet) (made by Alcas) Both mint. (125-021- bev) Minimum bid $55.00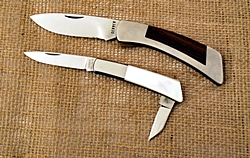 LOT 99 Two Gerber knives, locking liner with wood insert lockback, and 2 blade pearl handled Silver Knight. Both mint. (125-022- cdgi) Minimum bid $25.00