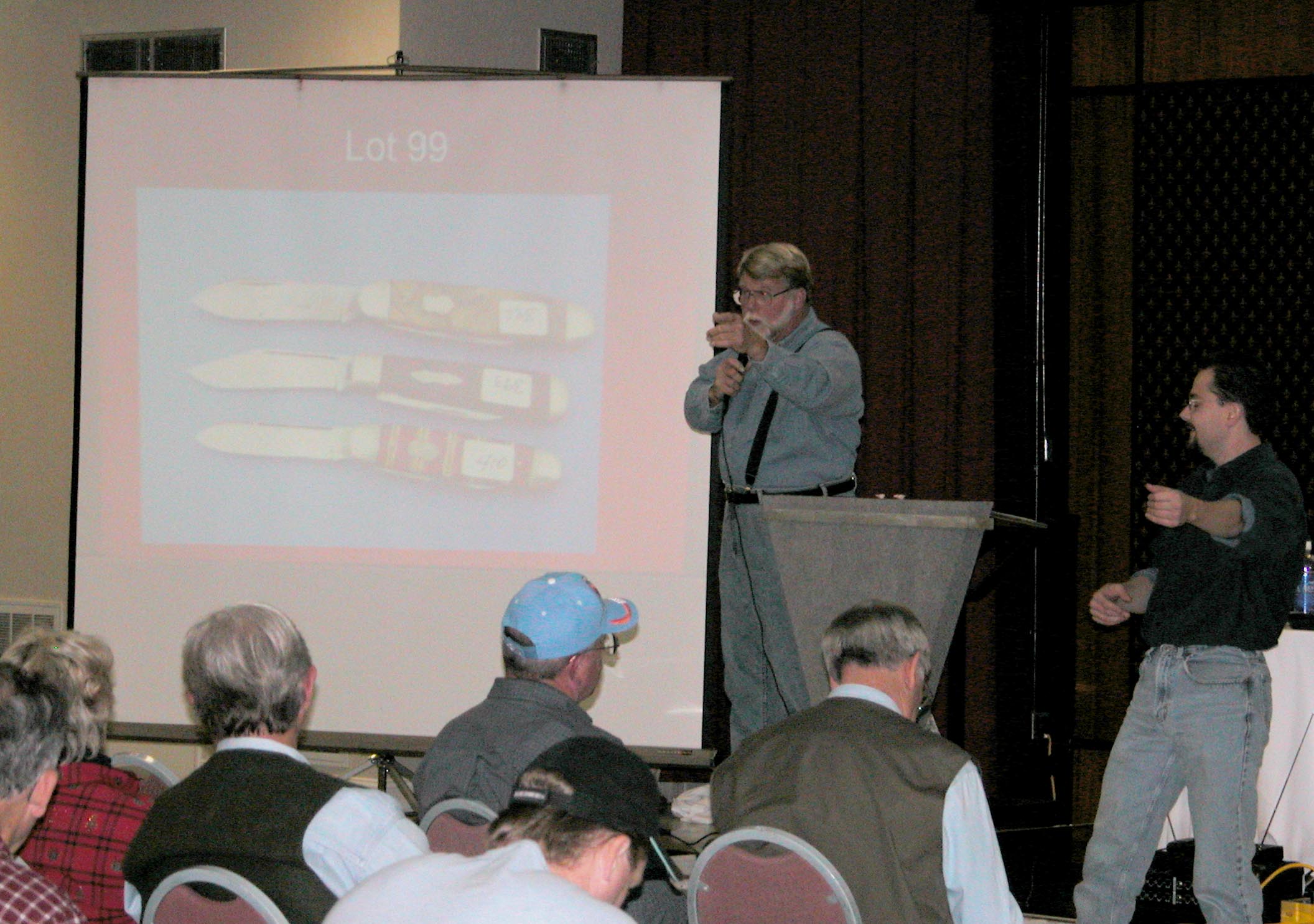 FREQUENTLY ASKED QUESTIONS
How do I bid?
Click here for how to register and bid
How do your auctions work?
First we are a real auction house, licensed in Tennessee and other states, and qualified to auction any item. However, we specialize only in knives. We are the only auctioneers in the world that concentrate on knives, which makes us specialists in our field. . We do two types of auctions--catalog auctions and live auctions We will elaborate more below.
1. Catalog Auction
We are a traditional auction house, we are not ebay. Bidders receive the catalog or are notifed of our online catalog, either by purchase or by request. Some consignors request lavish color catalogs to be done on their collection, or we incorporate their knives into our regularly scheduled auctions in a printed format that ranges from glossy color to large tabloids. We adjust the price of the catalogs by the cost of producing them. We do offer the catalogs free to regular buyers who bid a certain amount, and we offer a subscription for the catalogs of every auction we produce for $19.95 for four issues.
In the catalogs will list the knives we have for sale, they are accurately described by knowledgeable knife authorities. We also have an online catalog which shows the same knives in color, with the same descriptions as in the catalog.
Bidders are given a deadline for the auction, and at a stated time plus 3 minutes without a raised bid the auction is declared over and the winning bidders are contacted for payment and shipping notification.
This is a major difference between our auction and other online-auctions. We stop when everyone quits bidding. Time does not run out with someone there still willing to bid!
We accept bids via online, by email, by mail, by phone, and by fax.

2. Live Auctions
Our live auctions are exciting, and like all live auctions feature professional auctioneers in front of a live crowd and you see the bids and who is bidding, and once that time is pronounced "SOLD" by the auctioneer your opportunity to own that knife has passed. This "buy it now or lose it" pressure makes live auctions one of the most exciting ways to purchase knives, and you have to be on your toes to find the sleepers.
We usually hold our live auctions in conjunction with major knife shows.
The knives are projected onto a large screen in color in the front of the room to provide accuracy and to allow bidders to see exactly what they are bidding on in a clear manner.

What if I have knives I wish to consign?
We are constantly looking for knives of all kinds for our upcoming auctions. If it has a sharpened edge on it we can sell it, usually at market price or sometimes at record setting prices. Our $11,000 bid for a Moran non-damascus bowie, and $11,000 for an ivory Moran folder are world records at the moment. We hold the world record for a factory-made knife, a Case Tested 6488 Green bone congress that sold for $14,300 in December of 2005. At the same time we have sold knives as low as $5.00. We love to auction ALL types of knives.
We will handle all types of knives: antique, bowie, pocketknives, commemoratives, handmade, custom, you name it. We ask modest commissions based on what types of knives you have.
If you have knives you would like to consign here's how to go about it. Simplest way is just to send them with a letter enclosed telling us to auction them for you. Other than some paperwork that's all you have to do except wait on the check.
Of course you can contact us and we can explain more face to face, but usually once we know knives are to be consigned we will request that you inventory your knives, either by a list or simply laying on a photocopier as a single or in groups with the master blade open.
You can download our contract. Make two copies, sign both and send both copies to us with your knives. We will sign and return one copy to you prior to the auction. YOU CAN FIND The contract by CLICKING HERE.
We prefer shipment by USPS Registered Mail. That way it isn't lost, and it will not be left on our porch in the rain if we're not here. Upon receipt of your knives we will inspect them, and you let us do the rest. Payment is around 60-75 days following the auction in most instances, quicker for live auctions.
How to list knives
When you make your inventory list of knives if helps a great deal if you do the following
1. Place a sticker on the BACK side of the knife corresponding to the number on your inventory sheet. (This is the side on which the logo or trademark of the knife does NOT show)
2. Measure the knife and note it on the inventory sheet (fixed blades require overall length and blade length. folders only measure the closed length. If you have specifics about the type of steel, type of wood handles, and additional things like original catalogs, business cards of the maker, etc. That all helps.
3. How to package the knives. Please do NOT wrap in a tissue and then wrap it fifteen times with package wrapping tape-- Instead take something like a paper towel, start on a corner and roll the knife toward the center. Near the center fold the edges in, and continue to roll up. (DO NOT TAPE). When you have several knives wrapped in this way place them inside a ziplock bag, and then wrap the entire package in bubble wrap and box and ship.
Your help in the above saves us hours in the preparation of an auction an allows us to spend more time on better photography.
What is your percentage?
We prefer to quote percentages on a case by case basis, and that rate can vary depending upon the types of knives you have, their sales potential, the number of knives you have, whether you want to publish a catalog exclusively on your collection or incorporate it with our standard catalog, etc. The percentage will commonly be 15%, sometimes slightly higher.

Are there knives you will not sell?
Due to federal regulations we cannot sell switchblades, gravity knives, "automatics", knives with bear jaw handles, and similar knives. We wish we could but we are not anxious to break federal laws that have been on the books since 1957. We cannot import or export knives with ivory handles.
Who picks the minimums or reserves?
The best type of auction is an absolute auction with no minimum and no reserve, This is the best way to sell large collections or estates. In mail auctions we prefer to set a small minimum, usually at a very low price to encourage bidding. High minimums and reserves inhibit bidding. However some consignors have special knives for which they want some protection, so on some knives in selected auctions we do allow a reserve to be placed. There is usually a buy-back charge charged to the consignor if he executes the reserve. This percentage will vary depending upon the knife. Keep in mind that all live auctions usually start at zero. On any of our auctions that state "absolute auction after the minimum bid is met" there is no reserve on any item. If we feel a reserve is at market price, we might suggest to the consignor that we sell those consigned knives through our consignment department, a retail sales division that is not an auction.
What is the difference between consigning a knife to you versus my listing it on an online auction?
The single most important difference between J. Bruce Voyles, Auctioneers and most online auctions is our 35 years in the knife business. But that's not all. We police our auctions. Fakes are returned to the consignors. All knives we sell are available for inspection prior to completion of the deal.
Our live auctions inspection is open to anyone, and we encourage all bidders to point out any knives that may have been tampered with. We police them ourselves, and have been known to withdraw a knife from the table in the middle of an auction if it is found to be less than 100% original.
In our catalog auctions winning bidders have three days to examine their bids and return them if the item is found to be less than described. Inherent in that is the knowledge that members of our staff have inspected the knives prior to the auction to insure there are no fraudulent knives in the auction. We also require our consignors to stand behind their knives. The only exception to a lifetime authenticity guarantee by the consignor is in the event of an estate consignment, since it would be impossible for a deceased collector to guarantee the authenticity of his knives. (We do police those as well though.)

What are we paying for with our commissions when we consign knives to you?
You are buying our best efforts, access to a customer list built over 35 years in the knife business, and the expertise that includes induction into both the Blade Magazine Cutlery Hall of Fame and the American Bladesmiths Society Cutlery Hall of Fame.
I have a lot of knives that are good old knives but are not mint, some that are even rusted, will you auction those?
Yes. We are a full service auction company. When you bring knives to us it is not for us to tell you good knives from bad knives when you want them sold--you want us to sell them. And we will. That is what we do. Of course we like auctioning the mint expensive knives, and honestly we prefer it. But our business is built on service.
The only caveat with that statement is that if your knives are well used, and very "not mint", if there are knives like 70's era Sharkstooths that get green crud on the brass when left in the sheath for a long time (in other words a mess)--we will take them and sell them. However we will charge a competitive hourly rate to clean the knives up to photographic quality. This doesn't mean we buff knives or alter them in any way. We may semichrome the bolsters or wipe the grease off with Goof-off, or wipe down mildewed sheaths and leather handles. If this is a worry to you I would suggest you clean up cruddy and greasy knives before you send them. However, in the case of an estate auction in which a widow is consigning the knives or a consignor who is not physically able to clean their knives we will be happy to waive any charges on a case by case basis.
---
RETURNS
What is your return policy on catalog auction knives?
We guarantee the knives we sell to be as described. If not the bidder has three days in which to return the knives.
We do not accept counterfeit knives and we screen knives in our auctions to the best of our abilities. However as auctioneers we are agents for the consignors, and the final guarantee of the authenticity of a knife is backed up by the consignor. In any knife with which there is a question we will co-operate fully with the bidder and the consignor to reconcile any dispute. We do expect our consignors to stand behind the authenticity of their consignments.
---
TRAVELING WITH KNIVES
The world of traveling with knives by air has changed dramatically. If you are going to a show I would recommend you ship them to the hotel (and return them home the same way).
So the final part of my advice is get a good inland marine policy, photocopy the knives before you leave for the show so you will have a record, and hope they lose them. You'll enjoy the flight a lot more knowing the knives are insured.
The are some less expensive polices through some of the collector organizations. The one I use is Collectors Insurance.
---
SWITCHBLADES
Why are there no switchblades and automatics in your auctions?
We do not sell autos in our online auctions over state lines due to legal limitations. However, we do offer those when consigned at our Pigeon Forge, TN live auction, as they are now legal in Tennessee.
---
MORE QUESTIONS?
email us!